Physiological monitoring system checks firefighter vital signs
---
By Jamie Thompson
FireRescue1 Editor
DALLAS — A new device that allows incident command to monitor the vital signs of firefighters in real-time on the fireground was among the new products showcased at Fire-Rescue International.
The BioHarness First Responder System (FRS 1000) consists of a device that can be integrated into a shirt or worn as a strap that monitors the vital signs of the user — heart rate, breathing and temperature — in the context of activity and posture.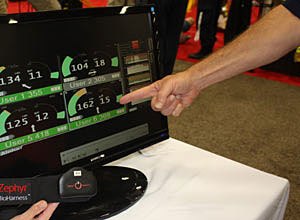 Data is then deployed over existing digital radio equipment including the Motorola XTS Series and on to a computer, allowing command to see firefighters' exertion levels at a glance on monitoring software that can provide either real-time alerts or post-event analysis.
Developers Zephyr Technology, based in Annapolis, Md., said the physiological monitoring system offers a reliable means of assessing the status of firefighters when they are at the scene or in training situations.
"If the heart rate and respiratory rate are high but so are activity levels, then that's not necessarily a bad thing of course and can be typical for a firefighter working hard at an incident," Director of Business Development Steven Small said.
"But if the heart rate is high but the respiratory rate low, and the activity reading shows he's horizontal, then that will be cause for alarm and you need to get them out."
Small said the technology also allows for better management of crews on the fireground, offering indications of when firefighters need to be rotated or new resources brought in.
The system was first developed for the sports research market and was then refined military market, Small said, with the Department of Defense requesting a product that didn't inhibit the user with heavy transmitters due to the amount of gear they already carry.
Its low weight and low hassle operation meant the technology could easily be applied to the first responder market, Small said, with signal and data quality maintained in high activity situations and a design that can cope with extreme environments.
"It allows you to see when a firefighter is close to fatigue and that you should get them out rather than push them to the point of exhauastion," he said.
"Also, while they are sitting and recuperating, you're able to monitor their vital signs so you can see when they are rested enough to go back in."