PRESS RELEASE
AVCOMM Announces "The Eliminator"
---
end picture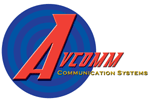 Avcomm International, Inc., the nation's leading manufacturer and distributor of state of the art noise reduction headsets, intercoms, radios and communications systems for Aviation, Fire/Safety, Racing, Industrial and Military applications, is proud to announce its innovative DSP (Digital Signal Processor) chip technology, THE ELIMINATOR.
THE ELIMINATOR, which can be integrated into intercoms and headsets, is the ultimate in Active Noise Reduction.  When a continuing background noise is detected (like a jet engine or race car engine), THE ELIMINATOR memorizes the noise pattern and removes the noise digitally.
The noise reduction is so dramatic that it can reduce the noise by 30dB. Its offending noise virtually disappears and the headset wearer can then clearly hear the needed communications coming from the speaker.
THE ELIMINATOR has applications for Open Cockpit Aircraft, Ultra-Lite Aircraft, Aviation Ground Crews, Air Boats, Race Cars, Trains, Military applications, and any situation where there is a constant, unwanted noise.
Contact your Avcomm dealer or representative today for more information on this ground breaking technology, call toll free 800-845-7541 or visit the Avcomm website at www.avcomm.com.
Avcomm, you can hear the difference!