Crystal Lake Fire Rescue Department Discusses Their Decision to Move to an Online Workforce Management System
---
By Anthony Jackson
Aladtec, Inc.
Recently, Battalion Chief William "Bill" Whyte of the Crystal Lake Fire Department had a problem. His custom scheduling software was failing, and years of data was about to be lost. His developer was gone and each day the data was becoming more and more corrupt. It became clear it was a matter of when, not if, the whole system failed entirely. Time was running out.   
Crystal Lake Fire Rescue Department (CLFRD) is located in Crystal Lake, Illinois, fifty two miles Northwest of Chicago. Established in 1913 with twelve founding members, CLFRD has grown to a staff of sixty nine full time members and three paid on call. Considered the busiest department in McHenry County, CLFRD averages 5,350 calls per year.

Beginning mid-July 2013 Battalion Chief Whyte set out to replace the system he knew was failing. "Obviously, our biggest goal was to get a schedule out. That was number one." He further explained that there were key situations that had to be met. These scenarios could potentially be deal breakers in determining which scheduling system to use. Battalion Chief Whyte explained his needs:

•  His first need was time accountability. It was imperative that the system could track all possibilities when it came to time… scheduled time, vacation time, time off, Kelly days, shift trades, etc…no surprise there.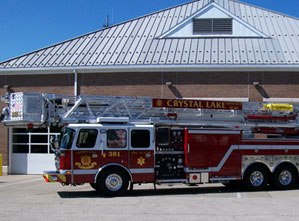 •  Second Battalion Chief Whyte explained, was the need to keep an accounting of the positions firefighters have on any given engine because firefighters carry Self Contained Breathing Apparatus (SCBA's) along with a Personal Alert Safety System (PASS's). These devices not only help firefighters breathe but are used to send alarms as well. Firefighters use PASS's to alert Command if they are in imminent danger or if a firefighter goes down and is stationary for more than thirty seconds, the PASS will automatically send out an alarm. During training, members can be stationary for the thirty seconds but then the PASS will go off and members will have to move themselves to get the PASS to reset. The SCBA's however, are numbered and correspond to a certain position on the engine. That is why they need to track positions. They need to know who each SCBA belongs to. It really could be a matter of life and death. 
•  The third need was a repository of all pertinent daily information. This repository would display whether members had training, public educational events, or any number of special events. CLFRD wanted a one-stop-shop for all of the information. "We wanted a schedule that showed everything that was happening on any given day." 

"I sent out a letter explaining what I needed to a number of different online scheduling companies. If the letter didn't scare them off, they went to the next round. My position was simple, this is what I need, and if you want my business this is what you have to do. It's your problem." shares Battalion Chief Whyte.

One such solution was Aladtec's FIRE Manager. FIRE Manager is an online employee scheduling and personnel management system that can be used by both supervisors and employees 24/7/365 from anywhere with an Internet connection.
"After spending time understanding FIRE Manager, it became apparent that FIRE Manager would serve our needs." said Battalion Chief Whyte.

Battalion Chief Whyte explained what it was about FIRE Manager that ultimately sold him. "First it was the capabilities of the software. Naturally, I wanted it to create schedules, but I also wanted it to be online so people could look at it and use the functionality from any computer, smart phone, or mobile device. Being able to text and send email helped too.  Second, the recommendations from three other neighboring Fire Departments," he said. One of which he used to work for, who switched to FIRE Manager nine months earlier from an Excel program Battalion Chief Whyte had designed himself. 

"At the end of the day, they all said it was the tech support," he indicated. He went on to explain that someone always answers the phone when you call and they are always helpful. The ease of getting answers compelled him to ask more and more questions. His relationship with his FIRE Manager sales person was growing with each conversation.

"Her name is Ericka Hawkins. She worked overtime to manually enter data for our schedules. When I found that out I was truly impressed. It was things like that which made the decision easy. I spent hours talking with Ericka making sure all items were fully functional. She even brought in developers and I was able to speak with them too." 

Upon the selection of FIRE Manager we focused our efforts on training the several Firefighters and the Battalion Chiefs on the use of the program. During the training phase we identified additional areas/features that could be utilized to aid in the daily management of Fire Rescue Operations.
After Crystal Lake rolled out their new scheduling system Battalion Chief Whyte details, "Our Firefighters have expressed great appreciation for the new program. Our personnel are logging in from home on their days off, requesting time off online through the system."
Battalion Chief Whyte explained that with the previous system, personnel had to submit paper requests for time off or trading shifts. "The first Firefighter had to sign it, then the other Firefighter had to sign it, then they brought it to me and I had to sign it. Now with their digital signature, our personnel are at home with their families, accessing the system, planning their lives."

As we were wrapping up our conversation Chief Whyte commented, "You know the best part is we are consolidating our information. We had a calendar for this, we had a calendar for that and that. It's all in FIRE Manager now with greater detail. A unified calendar is something we've wanted for years. We are becoming more efficient simply by limiting the multiple programs that we were using, and as we get used to the system we should be able to see where we can consolidate even more".

Still adapting to their new system, Battalion Chief Whyte and the rest of the CLFRD are moving forward confident that FIRE Manager is a great fit for their department. Finally Battalion Chief Whyte offered, "I was thinking wow, why couldn't other departments in the city, that have to schedule people, use this system. That's where my vision would be, that this becomes across the board, a standard. Wouldn't that be cool?" 
Battalion Chief Whyte has been serving the Crystal Lake community as a firefighter in Crystal Lake, Illinois for seventeen years. He is also part of the Emergency Operations Center (EOC) command staff. The EOC is also staffed with police and other representatives that in times of natural disasters and state emergencies is called upon to head those efforts.

FIRE Manager is a SaaS (Software as a Service) online employee scheduling and workforce management system. It is available as an annual subscription and the fee is based on the number of members accessing the system, so it is affordable for departments of all sizes. For more information visit firemanager.net, or request information directly here. 

Anthony Jackson is part of the technical support team at Aladtec Inc. In a constant effort to improve the training provided by the technical support team, Jackson researches the implementation efforts used by EMS Manager, FIRE Manager, and Zanager customers, to streamline and simplify the transition process.

Aladtec would like to acknowledge and thank Battalion Chief Whyte for taking the time to speak with Anthony Jackson and Battalion Chief Pollnow for the historical and technical information. 

Request product info from top Crew Scheduling Software companies
Thank You!