Ariz. fire, EMS leads the way with drone use
Drone pilot and industry expert John Nunes said he would put Mesa Fire and Medical Department staff "up against any drone pilot in the United States""
---
By Wayne Schutsky
East Valley Tribune
MESA, Ariz. — Mesa Fire and Medical Department is a pioneer in the use of drones to respond to emergency situations, and its pilots have evolved into a valuable resource for first responders and municipalities across Arizona.
While many of the department's pilots had little to no experience with drones – also called unmanned aerial vehicles, or UAVs – prior to the program's inception, they have developed into experts and now use the technology to respond to structural fires, large commercial fires, search and rescue operations, and other emergencies in Mesa and surrounding areas.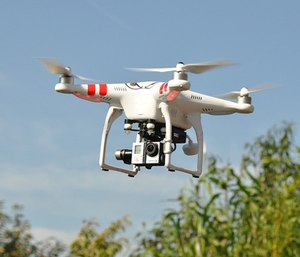 "These guys were excellent students and they became excellent pilots," instructor John Nunes said. "I would put them up against any drone pilot in the United States." Nunes is a drone pilot and industry expert who provided training for Mesa Fire and Medical Department's drone program.
The department's foray into drone use began when then-Fire Chief Harry Beck and Assistant Chief Mike Dunn tapped Deputy Shift Commander Brian Kotsur to look into the technology.
Kotsur, who had no experience with UAVs at the time, began researching the technology and was connected with Nunes by Captain Dean Morales, who is now one of Mesa Fire's drone pilots.
"We (met) John, who was putting together a pilot program for the FAA (with the Scottsdale Police Department), and that is really how we got started," Kotsur said.
The program did not develop overnight. The department's pilots needed rigorous training from Nunes in order to master both the skills needed to fly drones and understand the complicated set of rules and regulations that govern the technology.
"It's a slow progress to do things the right way," Kotsur said. "You don't want to just jump into this thing and get it out of the box and start flying it."
He added, "You are an unmanned pilot and you need to treat the airspace that you are working in in the same way (as a traditional pilot)."
The department now uses drones in a variety of capacities, including gaining a 360-degree perspective on damaged structures.
Captain Vance Friend has also used the department's drones to survey buildings in Mesa and provide hazard assessments for property owners.
The program's impact extends well beyond Mesa's boundaries, too.
Kotsur and Nunes responded during a flood in Mayer and assisted local authorities in water rescue operations and flood damage assessment.
The department's drone unit also assisted with the search for missing kindergarten teacher Cathryn Gorospe in Williams earlier this year.
Additionally, Mesa Fire and Medical Department has participated in joint specialized training exercises with other members of the automatic aid system – including fire departments from Phoenix, Tempe, Chandler and Gilbert – to demonstrate how UAVs can be used to respond to emergency situations such as a hazardous materials spill.
The automatic aid system is a coalition of emergency response departments in the Valley that allows firefighters to cross jurisdictional boundaries if they are the closest responders to an emergency.
In a recent demonstration, the department showed how public safety organizations can keep first responders safe by using drones outfitted with special meters and cameras to identify potentially lethal chemicals in hazmat situations.
"You are quickly assessing what is going on in the hazard, making a determination, and identifying possibly what the chemicals are," Kotsur said.
While effective, this technology is not cheap.
The department currently has four drones, which can cost several thousand dollars apiece.
Meanwhile, Nunes – who owned a company that was acquired by Gresco – loaned the department a thermal camera used during the box truck demonstration. That camera costs upwards of $13,000.
"The partnership (with Nunes and Gresco) is important," Kotsur said. "Without that, the program would be limited."
Currently, the department predominantly uses drones in a survey capacity after actual fires take place.
"Right now, most of the response is after the fact, so it is not a part of the initial response," Friend said.
However, Kotsur and Friend see that changing in the future as more fire and medical departments across the country make use of the technology
"We are just hitting the tip of the iceberg with what is going to take place with automation as well as with pilots that operate" drones for public safety, Kotsur said.
He envisions drones taking off from preset locations throughout the city after the department receives a 911 call and sending real-time video feeds to responding trucks. This would allow engine, ladder and battalion chiefs to assess fires before responders arrive on scene instead of relying solely on information from 911 callers, who may exaggerate or underestimate the situation.
Developing procedures to use drones for initial response to fires "will be huge down the road for public safety," Friend said.
In the meantime, Mesa Fire and Medical's drone pilots are focused on using the technology at their disposal in a safe and effective way.
"What I tell (our pilots) is that it's not about showing off," Kotsur said. "It's about being comfortable and very good at what you do in safety and repetition."
That means communicating with other users in the airspace to avoid potential accidents.
"Before they even got to fly, we hammered in the importance of safety and learning all about airspace, because we are sharing airspace that is occupied by passenger jets," Nunes said.
He added, "Here in the Valley you can't sneeze without having it land on somebody's airspace. It's that complicated."
So far, that focus on safety has paid off and reflected well on the Nunes' pilot program for the FAA.
Saying the agency "is pleased," Nunes added, "These fine pilots (in Mesa) have been able to operate at a 100 percent safety level. There have been absolutely no issues. We have had nothing but positive feedback."
Copyright 2017 East Valley Tribune
Request product info from top Firefighting Drones companies
Thank You!