PRESS RELEASE
Chaney Aerospace to develop drone wildfire strategies with Chloeta Fire
---
DALLAS — Chaney Aerospace, LLC is excited to announce they will be collaborating with Chloeta Fire, LLC of Jay, Oklahoma to develop wildland fire strategies using unmanned aerial vehicles (UAVs or "drones"). Throughout the spring, Chaney Aerospace will be flying over prescribed burns in Oklahoma and Texas with their Skyhunter UAV in order to further test equipment and expand operations conducted by Chloeta Fire in a controlled environment.
"UAVs present a unique capability to provide low cost aerial imagery on active wildfires," said David Atkins, Field Logistics Officer, Chloeta Fire. "By working with Chaney Aerospace, we will be able to practice integrating UAVs into future wildfire operations where manned aircraft are typically used. We will also be able to obtain data that can be used in the prevention of wildfires."
Chaney Aerospace plans to fly with video recording sensors and take still images for post processing to obtain vegetation data. Live video streaming will give ground operators the ability to monitor the fire from an aerial perspective. The Skyhunter is a fixed wing UAV that has the ability to carry up to 4 pounds of payload and fly upwards of 90 minutes depending on the payload carried. Launching by hand and recovery via belly landing makes it ideal for flying in remote locations where landing strips are not always available.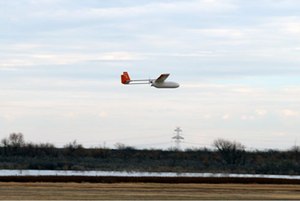 "Chloeta's extensive experience in wildfire logistics will provide invaluable testing for future development of drones for wildfire prevention and management by Chaney Aerospace," said Will Chaney, CEO, Chaney Aerospace.
For more information about the Skyhunter please visit http://www.chaneyaerospace.com.
Visit http://www.chloetafire.com to learn more about their firefighting capabilities.
About Chaney Aerospace
Founded in 2014, Chaney Aerospace uses their expertise and experience in drone operations to design ground control stations, drones, and develop operational strategies. Chaney Aerospace provides solutions to the commercial drone industry that allow drone operators to command their drone and conquer the sky. To learn more about Chaney Aerospace and the products they offer, please visit http://www.chaneyaerospace.com and follow them on Twitter @chaneyaerospace.
About Chloeta Fire
Chloeta Fire, LLC is the industry leader in international wildland fire consulting and contracting. Chloeta is also capable of providing a diverse range of related natural resources and emergency services solutions and is a 100% American Indian owned and operated SBA HUBZone & 8(a) SDB firm which also holds the first and only wildland/prescribed fire services GSA Schedule contract. With over 90,000 acres burned in 13 states since 2010, Chloeta is the NATIONAL leader in prescribed fire planning, application, and is the preferred source for safe and professional prescribed fire assistance.