A History of the Kent Island Volunteer Fire Department
Stories of the men and women who have dedicated themselves to the service of their community
---
Editor's note: We're pleased to present this exclusive excerpt from Brent Lewis' new book, "A History of the Kent Island Volunteer Fire Department." Brent tells us, "Though this is a history of one specific volunteer fire department, I tried to capture the bravery, compassion, dedication and camaraderie universal in those who serve in emergency response."
By Brent Lewis
Kent Island is located on Maryland's Eastern Shore and is the largest island in the Chesapeake Bay. The Kent Island Volunteer Fire Department was established in 1947 by a group of concerned citizens who saw change coming. In 1952, the completion of the Chesapeake Bay Bridge connected the rural "Sho" to the more metropolitan western half of the state. Everything changed except for the character of the people ...
When people deal with trauma and tragedy on a regular basis, one of the release valves is a fine-tuned sense of humor. (Ladies Auxiliary leader and department historian) Dolores Timms's oldest son, Robert "Bobby," a member from 1975 to 1993, has a number of favorite stories. This is one of them: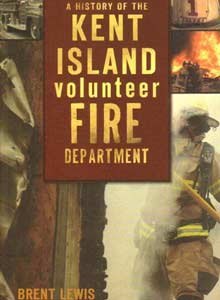 We were coming back from a call one night, and Billy Moore kept complaining his chest felt tight. We said what do you mean, Billy? Are you having chest pains? He said, "No, my gear just feels tight. I must be getting fat." Well, he'd jumped up in the middle of the night and threw something on to answer the call. When we got back, he started taking his bunker coat off, and he had on one of his wife's nightgowns. We laughed so hard at him, but that's the kind of stuff happens when you get up in the middle of the night to go put out fires.
When discussing good times, Bruce Coursey is a name that's inevitably part of the conversation. Bruce grew up on the island and is physically described by most people as "tall and lanky." Despite a wild side, Bruce was an impassioned and effective volunteer. Calvin Duncan thinks of his onetime colleague this way: "Bruce Coursey was a real clown, but when something needed to be done, he was ready to do it. And soon as the situation was over, he was right back to being Bruce." Curtie Chance says, "I used to jump in with Bruce on the way to a fire and I'd say, 'Don't go up this road like you're too crazy now.' We'd go up there sometimes on two wheels." Bobby Timms chuckles, "Bruce didn't drive trucks, he aimed them."
Terry Smith is a well-known area radio personality. Her on-air name is Terry Alley. Her husband, Tucker, comes from a family devoted to the Kent Island Volunteer Fire Department. Terry's mom, Joyce Dennis, was a longtime ladies auxiliary member and past president before passing away in April 2010.
Over recent years, Terry has been a driving force in the department's fundraising efforts. Discussing Bruce Coursey, she says, "When I was pregnant with our oldest son, I told Tucker, 'When I go into labor don't call the ambulance. I love Bruce but do not want him delivering my baby.'"
Second assistant chief Tracy Schulz recalls, "Bruce would come to the firehouse in his underwear and wear his bunker pants home."
Bobby Timms tells the following Bruce Coursey story:
A guy drowned one night at Stevensville Bridge. Keith Baker, Marc Grollman, Hammie Collins, Mark Harrison and a bunch of them went to the car show in Baltimore. They called wanting to know what happened. We told them a man drowned, and we were at the firehouse waiting for the undertaker to come get him. Bruce got on the stretcher. We sprayed his shoes with water, covered him up, made the sheets wet.
Here comes Keith Baker. He had few drinks in him. I asked him if he wanted to see the victim. Man, Keith and Hammie and a couple of the others crawled into that ambulance. When they pulled that sheet back, Bruce sat up and roared. Those boys almost burst the roof off trying to get out of there. We laughed so hard we were crying.
Bobby's mom, Dolores, thinks of Bruce fondly. "Bruce would tell it like it was even when you didn't want to hear it. He loved to joke around; he'd do anything — the crazier the better." She adds emphatically, "And he was a great fireman. We miss him since he moved away."
Kathy Hemler was one of Kent Island Volunteer Fire Department's top Emergency Medical Services responders before becoming its first female firefighter.
The Hemler family — Joe, Evelyn, Debbie and Kathy — moved to Kent Island in 1975. Purchasing and reopening what was long known as Frampton's Store in Stevensville, the Hemlers quickly endeared themselves to the locals. Joe and Kathy joined the KIVFD ambulance crew. Evelyn and Debbie became members of the ladies auxiliary. Kathy soon decided to expand her skills and diversify her service. Her introduction to firefighter politics was not an easy one. Bobby Timms remembers the controversy a woman brought to a traditionally male force:
That was a tough time. Those old guys, and some of the younger ones, were hard on Kathy. They weren't prepared for women who were so outwardly strong-willed. The company was split. Some thought it was a good thing; others felt things were changing too much. There was a lot of controversy. Those were dark days for the fire company.
Former treasurer and Vice-president Keith Baker saw how trailblazer Kathy Hemler proved herself despite such obstacles. "I give Kathy a lot of credit. I saw her outdo male firefighters." He considers the bottom line.
"The question was always if I took her into a fire scene with me would she watch my back, and I believed she would."
Kathy Hemler later helped establish the county's Advanced Life Support system and broke more gender barriers when she joined the Maryland State Police. She says she knew joining the masculine worlds of firefighting and police work would be no easy task, and she holds no ill will toward those who resisted her inclusion. "It wasn't like I didn't expect a challenge," she says with a smile. The Hemlers moved and are no longer active in the KIVFD.
"And then," Don Lewis (president, 2002–04) says, Grace Gardner came along. Like Kathy she mostly worked on the ambulance, and she wasn't taking any crap. She's still a valued member, the current EMS treasurer, and she's tough. I used to see her at the old firehouse running across that apron. She'd be getting dressed with her bra in her hand. She'd get in that ambulance, put her bra on and go.
Today, KIVFD has a handful of female members, mostly on the ambulance crew but also a couple of firefighters. Their presence is expected, part of the professional dynamic of a modern emergency response organization.
Native Kent Islander William Douglas "Dougie" Thomas was born on October 21, 1961. His grandfather was a founding member, and with Alfred Thomas's encouragement, Doug joined as soon as age requirements allowed. For over twenty-five years, Dougie Thomas was a leading responder and held numerous elected leadership positions, including chief from 1998 to
2000.
On the Sunday morning after the terrorist attacks of September 11, 2001, Dougie was responding to a reported boat fire at the Kent Island Yacht Club at Kent Narrows when the fire engine he was driving struck a utility pole and overturned. He suffered serious spinal injuries.
Dougie Thomas was a stubborn man. He defied expectations and struggled to hold on to life for almost two years. Unfortunately, a July 2003 issue of the Bay Times announced:
One day after Queen Anne's County dedicated its new memorial to fallen heroes, the county lost another. He was William "Dougie" Thomas, second assistant chief of the Kent Island Fire Department, who died July 9 at the University of Maryland Shock Trauma Center in Baltimore as a result of injuries sustained while responding to a fire call in September 2001. He was 41. This week, family, friends and fellow firefighters took part in an emotional celebration of his colorful life, and then bore his casket atop a fire truck to the Stevensville cemetery, where he was laid to rest with full fire department honors.
Dougie left behind his beloved wife, Renee; his parents; his children; and a grandchild. He's the only member of the Kent Island Volunteer Fire Department to sustain life-ending injuries in performance of his duties.