On the Line: The pranks firefighters play
In a new book by Linda Willing, women firefighters tell their stories
---
Editor's note: A new book by
FR1 columnist Linda Willing
— "
On the Line: Women Firefighters Tell Their Stories" — tells the history of women in the fire service, and profiles more than 35 women who serve as firefighters in the United States and Canada, from career members of the largest fire departments to volunteers with organizations of only a dozen members. The women in this book share their best stories: responding to the World Trade Center and the Pentagon on 9/11, handling emergency medical calls that may range from the tragic to the ridiculous, living in the fire station, overcoming obstacles. The women featured are as diverse as the job itself, but all share one thing — their love and commitment to a life of service as a firefighter. You can buy the book at
Amazon.com
.
Meg Richardson joined the Marietta, Georgia Fire Department in 1997 after a first career as a human resources and training director. Currently a company officer, Meg is married to a captain with the Atlanta Fire Department. It was her husband who suggested she make the career move to the fire department.
"I laughed. I told him I'm the executive type, not a firefighter. But he was coming home smelling of smoke and he was happy, and I was coming home stressed out after working sixty hours a week. So I started thinking about it." And now? "I would prefer to go into a burning building any day versus working in the corporate world."
One of the things that Meg most values about her life in the fire service is the strong sense of camaraderie she feels with her fellow firefighters. "Firefighting is the ultimate team sport. When that team is working, and we're fighting a fire, we don't even really have to speak."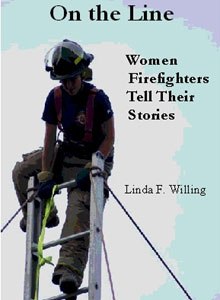 Meg talked about the role of humor as a way of building strong teams. "A lighter arena is just much more comfortable to work in. We're not allowed to horseplay — there's been a rule about that since the early 1990s. But there are still a lot of practical jokes. You need to be the first to laugh at yourself."
One of the funniest jokes that Meg recalled was very simple. "After an arduous training event that spanned the course of several shifts, we found a large white cooler sitting in the engine bay at our main fire station.
That station houses an engine, a ladder truck, a heavy rescue and the shift chief, so on any given day there are about ten folks on duty. During the shift change, every time a new person reported in, he would pass by this cooler that had a sign on it reading: Free sodas. Help yourself."
"Firefighters can't refuse free food, so nearly everyone opened the cooler to help himself to a cool refreshing beverage. Unfortunately, what he found instead was a large rubber snake attached by a piece of fishing line to the inside of the lid.
"When a person opened the lid, the snake would spring out, inevitably extracting a high pitched yelp from the terrified person. This of course was to the delight of the growing crowd of firefighters, most who had just fallen for the prank!"
Meg admits that she has often been the one to instigate such pranks. "There was a guy who was terrified of spiders. Think of all the crawl spaces we have to go into, filled with snakes and spiders and rats.
"So one shift when we were working together, I took a piece of dental floss and one of those big plastic spiders, so when he pulled down his sleeping bag in his bed, the spider would pull out from under his pillow. He screamed like a little kid, but thought it was hilarious."
"Everyone here knows my professional background, and in some ways I tend to keep a distance when at work. So they never suspect it's me playing these jokes. One time we had a guy that was super lazy and never paid his house dues on time.
"So we took his TV remote hostage and hid it and sent him on a scavenger hunt to find it. At the end there was a kidnapping letter that said, you won't get your remote back until you pay your house dues. But nobody knew who did it, and that was half the fun."
A self-described "fitness and nutrition fanatic," Meg is committed to making the fire service healthier and safer in the long run. "I teach regularly on these topics, both in the formal classroom setting and in the firehouse.
"Personally I want to stay strong for as long as I can. I will strive in the remainder of my career to maintain and set the example for fitness for duty. I want to be instrumental in introducing our fire staff to nutrition and fitness practices that will enhance their quality of life now and after retirement. That, I hope, will be my legacy."