Firehouse Publishes New Book Honoring 10th Anniversary of 9/11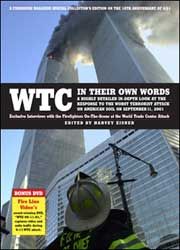 We are proud to announce a new book being published by Firehouse® to honor the 10th anniversary of 9/11, entitled "In Their Own Words." In the book, numerous FDNY firefighters tell their stories about operating at various parts of the 16-acre site. Many of these stories have not been told before.
Filled with comprehensive, exclusive interviews with firefighters who responded to the World Trade Center attack, WTC: In Their Own Words is a special collector's edition book from Firehouse® Magazine in commemoration of the 10th anniversary of 9/11. This softbound book takes a highly detailed, in-depth look at the day's events and fire department response.