PRESS RELEASE
Introducing 24-7 EMS Now-the Complete Online Training Package
---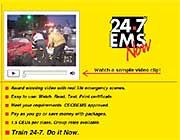 BAINBRIDGE ISLAND,WA - 24-7 EMS, the leader in classroom CE training, has developed a convenient online version.  24-7 EMS Now combines the award winning training you expect with the ease of pay per view. Streaming video brings the reality of the street to CE training, adding excitement and enhancing learning. All in an easy to use online format.
For organizations, 24-7 EMS Now offers an integrated learning management system (LMS) that provides vital tracking and administrative tools. Individual users gain control of training time.
24-7 EMS Now has made a free 1.5 CEU Mechanism of Injury class available at www.24-7emsnow.com.
This convenient online format delivers 42 dynamic classes in 2007. Each 1.5 CEU class is packed with learning: learning objectives, background reading, interactive skills drills, secure testing and instant certification upon passing test. The 15-20 minute video segment features: real life EMS care, "how to" demonstrations, case studies and more. Classes are approved by CECBEMS for First Responder, EMT and Paramedic.
 
24-7 EMS Now is powered by CentreLearn, a learning management company with a long history of excellence delivering online training to Fire and EMS organizations nationwide. In addition to unlimited 24-7 EMS Now classes, organizations can choose one of three levels of learning management systems with a broad range of features, powerful administrative controls, the ability to place existing classes online, and assistance with program creation.
24-7 EMS is committed to delivering media rich EMS training tools that enhance training effectiveness while saving users time and money. Training options include subscription and individual classes. 
 
About 24-7 EMS.
The leader in EMS continuing education, 24-7 EMS offers both online and classroom training solutions. It is now available for groups or individuals.  This media rich training program delivers continual review of the DOT curriculum. 24-7 EMS is published by the originators of Emergency Medical Update and is currently used monthly by over 65,000 people.