Bright solutions for emergency scene lighting
FRC's latest entry into this market is the Spectra Light Head
---
Most of you in have used or at least seen the excellent products that FRC (Fire Research Corp.) has introduced to the fire service and other emergency services agencies over the past 43 years.
They have been instrumental in providing functional, good quality products in flow meters, governors scene lighting and various other safety product designs.
Over the past few years, the company has evolved its scene lighting products from the standard quartz and halogen lighting, which you can still purchase, to the newer LED lighting products.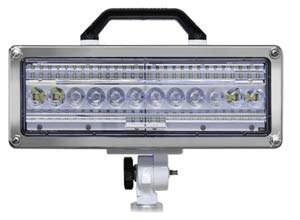 Its newest entry into this market is the Spectra Light Head. The Spectra is available in various configurations and is available in fixed mounts, tripod mount, and telescopic pole mounts.
The specs are as follows: 
Spectra LED lampheads output an impressive 20,000 lumens of super bright white light, making it one of the brightest LED scene lighting available.
Its advanced lens design generates a uniform flood and spot combination light pattern, which is geared toward providing enhanced work area visibility as well as illuminating objects at a further distance.
The Sprectra lamphead is available in a surface mount configuration. The slim body design keeps the lamphead closer to the vehicle.
If you are in the process of starting the spec writing process for any type of apparatus, and need enhanced scene lighting, then FRC is a must to look at. Not only is the Spectra a new product on the market, FRC offers other alternatives as well.
Their catalogs are available online as PDF files, so you may well get some other ideas after perusing their catalogs from their other products that can be installed at the factory while your apparatus is being constructed.
FRC is a manufacturer of state-of-the-art equipment specifically designed for the fire, rescue, and emergency services. For more details, visit their website.

Request product info from top Emergency Lighting companies
Thank You!