FoxFury rolls out 2 right-angle lights
'Breakthrough' units come in 2-degree and 3-degree beam-angle models
---
FoxFury officials lifted the black cloak shielding prototypes of their newest entry into the personal lighting market at FDIC on Thursday. Dubbed the Breakthrough, the units come in a 2-degree and 3-degree beam-angle models.
Antonio Cugini, the company's vice president of sales, said the new LED lights cut through smoke like a light box. Both models will be available in June through the company's dealer network.
The 2-degree beam-angle, BT-2, will run three to six hours and produce 200 lumens. It has a low, high and strobe settings. It will sell for $125.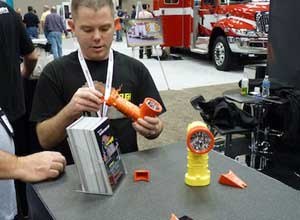 The BT-3, 3-degree beam angle, has low and high settings and will run two to five hours while producing 600 lumens. It will sell for $200.
Both units take 4 AA batteries and are waterproof up to 10 feet and can sustain a three-story fall.
The housing is 3/8-inch glass-reinforced nylon. 

Request product info from top Emergency Lighting companies
Thank You!