PRESS RELEASE
Akron Brass Company Introduces SceneStar High Power LED Scene Light
---
use if there is a picture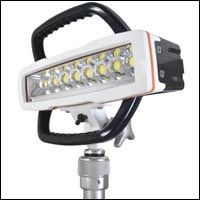 end picture
Wooster, OH – Akron Brass introduces a new LED high power scene light that delivers superior light distribution evenly across your entire emergency scene creating a safe work environment.
The SceneStar's highly engineered reflector and state-of-the-art electronics, produces a brighter white light using less power than traditional quartz halogen lamps. This increases work area visibility as well as enhances illumination of objects at a distance. Utilizing the latest LED technology, the SceneStar is a brilliant combination of performance, durability, efficiency and style.
The SceneStar leads the LED revolution with such characteristics as long LED life (an incredible 50,000+ hours), optimized thermal management and an unmatched 6 year warranty. No other LED scene light provides industry leading levels of light with consistency and reliability.
With the addition of an LED scene light, the Akron Brass Extenda-Lite family of products gives customers the flexibility to choose the most appropriate solution for their lighting needs. Total scene illumination, high quality telescoping poles, countless configurations and exceptional service make the Extenda-Lite products the best in the industry.
To experience the SceneStar difference, go to www.akronbrass.com/scenestar.
About Akron Brass Company
Founded in 1918, Akron Brass is a worldwide marketer and manufacturer of high performance life safety, fire fighting and emergency rescue equipment. A Premier Farnell company, Akron Brass is ISO 9001: 2000 registered and has an excellent reputation for developing and manufacturing innovative products.