PRESS RELEASE
Streamlight Debuts 18650 Lithium Ion Battery and Charger
---

EAGLEVILLE, PA – Streamlight® Inc., a leading provider of high-performance lighting, introduced the Streamlight® 18650 Lithium Ion Battery and Charger, designed to energize the growing line of Streamlight products that accept 18650 rechargeable batteries. The new, dual power input charging system permits charging through either AC/DC or USB power sources.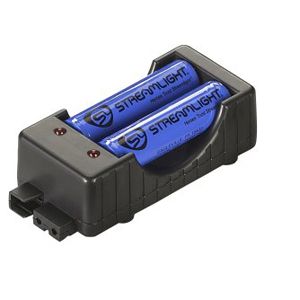 The two-bay cradle can charge either one Streamlight 18650 Li-Ion battery or two batteries simultaneously, charging a single battery in as little as 3.5 hours. The charger is equipped with dual power input ports, accepting either 5V Micro-USB or traditional AC or DC power sources. This gives users a variety of charging options, such as a personal computer, portable USB charger, or 12V DC automotive power, when a wall outlet is not available.

"We introduced the Streamlight-branded 18650 Charger and Battery to give users an alternate power source for charging our newer flashlight models, such as the ProTac HL® 4 and the ProTac HL® USB, that accept 18650 rechargeable or standard lithium batteries," said Streamlight President and Chief Executive Officer Ray Sharrah. "These products continue to grow in popularity because their rechargeable batteries make them extremely economical to operate. Now, users can conveniently recharge these batteries when they don't have ready access to conventional power sources."

Streamlight's new rechargeable 18650 batteries offer 3.7V, 2600mAh and are rechargeable up to 500 times. The charger unit has an impact-resistant engineered polymer housing. Its Micro-USB input has a custom locking feature that charges from Streamlight AC/USB adapters or most other USB sources.

The new Li-Ion Charger and Battery is available in a kit that includes two Streamlight 18650 batteries and either a 120V AC cord with an MSRP of $70.00, or a custom micro-USB cord, with an MSRP of $60.00. The charger, available in black, also can be purchased separately, with an MSRP of $25.00. Individual 18650 batteries are available at an MSRP of $20.00 each.Each product comes with Streamlight's Limited Lifetime Warranty.

About Streamlight

Based in Eagleville, PA, Streamlight, Inc. has more than 40 years of experience making tough, durable, long-lasting flashlights designed to serve the specialized needs of professionals and consumers alike. Since 1973, the company has designed, manufactured and marketed high-performance flashlights, and today offers a broad array of lights, lanterns, weapon light/laser sighting devices, and scene lighting solutions for professional law enforcement, military, firefighting, industrial, automotive, and outdoor applications. Streamlight is an ISO 9001:2008 certified company. For additional information, please call 800-523-7488, visit www.streamlight.com or connect with us on www.facebook.com/streamlight; www.twitter.com/Streamlight; and www.youtube.com/streamlighttv.

Request more info from Streamlight, Inc.
Thank You!