Great products from EMS Today 2012
Baltimore Convention Center exhibit area was on fire with some incredible new advancements in EMS technology on display
---
By Dan White, FR1 Contributor
The Baltimore Convention Center exhibit area was on fire with some incredible new advancements in EMS technology on display for EMS Today 2012. Many great new products were launched at the show this year. Some of the top contenders include the following: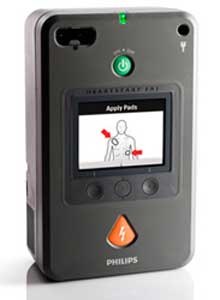 The Philips FR3 is a new professional-grade AED. It is the smallest and lightest (3.5lbs) rock-solid AED I have ever seen. That makes the FR3 easier to carry and integrate with other rescue equipment.
The bright, high-resolution color LCD helps make the FR3 easier to use in a noisy environment. It also performs automated self-tests with both visual and audible alerts.
It is IP55 rated for full protection from dust or jetted water. That gives you plenty of confidence that the FR3 will withstand a demanding work environment. I really liked the rugged feel of it. It seems nearly bulletproof, it's easy to use, and it is a whole lot less to carry.
Aeroclave LLC introduced their game-changing line of decontamination systems. They use a proven process to sterilize ambulances and everything in them in one convenient step. The process has a low cost per cycle and doesn't take long to perform. It is even safe for sensitive electronic equipment.
A proprietary hydrogen peroxide solution jets through an electric arc, delivering a dense stream of potent energized particles. It almost looks like a pathogen killing flamethrower and yields a full 6-log sterilization. The different systems available include some very portable models, like the RDS 1110-P.
The RDS 1110-P is mounted in a 44-pound wheeled case. They can even fit ambulance bays with their deep fogging systems. You drive in, open all the doors and cabinets, and hit the switch to sterilize your entire ambulance and everything in it.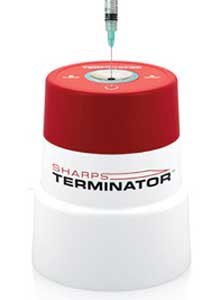 Speaking of infection control, the Sharps Terminator burns contaminated needles almost instantly. The needle is completely oxidized from the tip to the hub, right at the point of use.
An internal cutter removes the nub from the barrel and drops it into a collection tube. Then an ultraviolet light destroys any remaining pathogens.
Ecolab introduced their next generation touch free wall mount dispenser. It dispenses a variety of hand sanitizing products including both foams and gels.
It runs on cheap batteries and it's easy to change the solution cartridges. You can even adjust the product quantity dispensed. It inspires real product confidence that Ecolab has been around since 1923. For more information, ask Brooke for a brochure.
Hartwell Medical demonstrated a new addition to their line of vacuum splints. I think it is one of their best. They called it the Hartwell Halfback, It cushions and immobilizes your patient's upper torso on the backboard. It works as an excellent CID.
It is quickly molded directly to the patient, and formed to fill and stabilize the uncomfortable voids while supporting the head and neck. You can improve cervical immobilization, ease lateral transfer later, and make your patients much more comfortable all at the same time.
I liked the powerful hand-powered vacuum pump. It helps make applying the Halfback incredibly fast and easy.
CSI Medical, Inc. showed the Board Armor. It is the world's only backboard cover with an integrated CID. It makes clean up a snap by acting as a protective barrier between the patient and your backboard.
Athena GTX launched the mini-MEDIC forehead monitor. The system consists of a wireless device that can transmit vital parameters to a clinician with a hand- held receiver. It could be a huge leap forward in MCI management and casualty care. The mini-MEDIC monitors SpO2, Pulse Rate, Heart Rate, and Skin Temperature.
Embedded algorithms calculate Pulse Wave Transit Time and Murphy Factor, and the data is all stored in the forehead monitor. The medic can input the rest of the clinical data on the palm-sized interface.
There were three new CPAP devices at EMS Today. The BLS Systems Rescuer CPAP is simple and incredibly fast to apply. It filters patient exhalation, comes completely ready to use, and includes a fully adjustable PEEP valve. For more information, see my special feature on the BLS Systems Rescuer CPAP. Another new one is the O2MAX.
Pulmodyne premiered their newly improved disposable CPAP. This one is a little different from other disposables, in that it is a true flow generator. Patients get a little more help with inspiration.
Their original version is the O2-RESQ which offers variable PEEP with a fixed 30 percent FIO2. They recently created a version that offers both adjustable FIO2 and adjustable flow called the O2-MAX.
The O2MAX CPAP delivers from 30 percent-100 percent oxygen, in flow rates up to an astonishing 140/LPM. It has a simple three-knob control, familiar to all those experienced with a downs flow generator.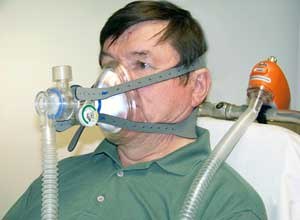 O-TWO Systems also had new disposable CPAP, and showcased the CareVent CPAP. Another product that caught my eye was their single use CPR Ventilation Timer.
The CPR Ventilation Timer is a tiny, single-use LED light, about the size of a coat button. You can put it almost anywhere, and use it to synchronize your manual ventilations during resuscitation. It blinks 10 times a minute, for an incredibly long time. My activated sample is now still blinking, more than two days after getting back home.
SunMed polled reactions to the idea of a color-coded ET Tube. Most of the medics that I saw loved the idea. It would make finding the right size tube a lot faster.
VBM Medical introduced two new EMS products. One was the Laryngobloc single-use fiber optic LED laryngoscope. It features a reusable inner light cartridge and a one-piece disposable blade with integrated handle.
While it is polypropylene plastic, it is by no means weak. I tried in vain to flex the blade to no avail. It is very tough, very bright, and very inexpensive to use.
They also introduced the VBM Pelvic Sling. It helps stabilize pelvic fractures quickly and conveniently. It works by applying external pressure in air bladders, not unlike those in a BP cuff. One thing I liked was the gauge, showing you exactly when you have applied the optimal amount of pelvic pressure.
M2 Inc. demonstrated the Ratcheting Medical Tourniquet. The RMT is a fast tactical tool for hemorrhage control. It can be applied single handedly and is conveniently self-locking. The windlass mechanism is easy to use and seems completely secure. It produces an audible sound as it tightens.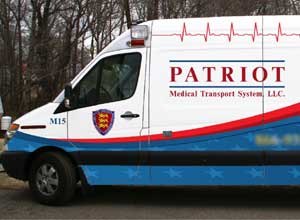 Miller Coach exhibited a newly improved version of their Sprinter-based ambulance. It features a sporty new paint job outside, but more importantly it features a more refined and evolved use of interior space.
One big thing they did is move the rear attendant's seat 11" backwards. It offers the medical provider better access for providing typical EMS care. It reminds me of the same intimate convenience I once enjoyed in a Cadillac ambulance, which is pretty hard to beat when it comes to patient access.
Demers Ambulances demonstrated their latest vehicles featuring the new Ecosmart ambulance electrical management system. The Ecosmart System creates an intelligent and efficient anti-idling engine, that can save you $1,500-$2,000 a year in fuel costs.
It was a great EMS Today conference in Baltimore this year. More new products were introduced than at any other show in recent memory. These were just some of the highlights. Some of these new products could really change and improve the quality of EMS care delivered in the field.

Request product info from top Fire EMS Supplies companies
Thank You!