PRESS RELEASE
DQE® Introduces the HICS Command Toolbox™
---
Easily Deploy Hospital Emergency Response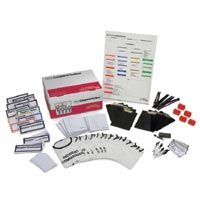 INDIANAPOLIS - The HICS Command Toolbox™ is a comprehensive solution for organizing an incident command situation in a hospital setting. The HICS Command Toolbox enhances a hospital's emergency response capability by providing the tools needed to perform HICS management procedures. 
All of the supplies within the HICS Command Toolbox aid in a simplified deployment of incident command procedures.
· The HICS Organization Chart Dry Erase Board prominently displays HICS leadership positions. It is an essential tool to assist incident command staff in tracking personnel assigned to key positions in the HICS hierarchy. This high quality, space conscious board clearly displays 25 Hospital Incident Command roles.
· Three complete sets of HICS Job Action Sheets and HICS Forms provide each shift with their own HICS documents.
· The Command & General Staff Vest Set is a set of 16 vests constructed of breathable synthetic material, making the vests durable enough for repeat use, but economical enough to be disposable. There is one vest for each of the HICS Command and General Staff titles, three additional Medical/ Technical vests, and four blank vests for customized position identification.
· The HICS Pocket Guide offers an at-a-glance reference for Command Staff, with a template of all positions in the HICS hierarchy and a mission statement for each position.
· The Section Table Tents provide quick identification of who is filling each HICS section leader role.
· Other items included to complete the HICS Command Toolbox: dry erase marker & eraser, easel, clipboards, notepads, and pens.
Designed to be utilized every time there is an emergency incident, the HICS Command Toolbox will become an integrated part of a hospital emergency preparedness plan.
DQE, Inc. manufactures and distributes emergency preparedness and response equipment for hospital, first responder, and industrial emergency response use. Headquartered in Indianapolis, Indiana, DQE proudly celebrates 19 years of service. For additional information and to learn more about DQE and its family of products, visit www.dqeready.com. See attached .jpg photograph: "HICS Command Toolbox"