PRESS RELEASE
Simplest and Most Cost Effective Cric Kits Available
---
"Simplest and most cost effective cric kits available"
FOR IMMEDIATE RELEASE
Bianca Bussereth, Marketing Manager
(For promotion and advertisement)

Port Saint Lucie, FL (September 2015) -- The Quick Fix Emergency Cric Kits are designed to be just that – a rapid, simple Emergency Airway Introducer for the "can't intubate / can't ventilate" scenario.
No fiddling with unfamiliar wires or dilators in the emergency setting…
Use a familiar scalpel forceps, and trach tube or large needle and tube adapter to rapidly
perform a simple, life-saving cricothyrotomy in seconds, at a price everyone can live with!
Quick Fix Cric Kits will be featured at EMS Expo in Las Vegas. Check out their use in the
Emergency Airway Pre-Conference Program in September 17th 8am – 5pm.

Or you can visit us at booth #222.
Pediatric - $11.95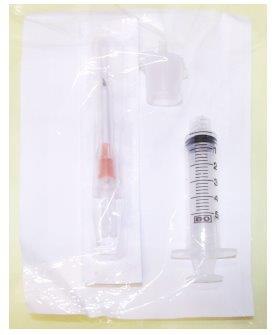 Adult - $35.95