Humanoid robot to fight fires on ships
Robot will be able to move around ship, find fires, use fire extinguishers, throw PEAT canisters, communicate with human firefighters
---
BLACKSBURG, Va. — RoMeLa labs at Virginia Tech are working on a robot that will fight fires on ships.
The robot will be able to move around the ship by itself, find fires, carry and use fire extinguishers, throw PEAT canisters and communicate with human firefighters, said CrazyEngineers.com.
"We've already built the legs of the robot and are working on the rest of it," PhD candidate and project manager Derek Lahr told DesignNews.com.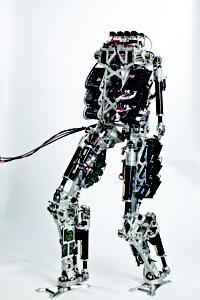 But those legs are equipped with all the machinery permitting the robot to walk and remain upright on rocky seas.
"For six degrees of freedom in each leg, we use six motors," Lahr said. "That's 12 motors being used in just the legs section of the SAFFiR."
Wherever possible, the team used 100W motors to keep the robot lightweight, but certain critical joints such as the knees, which bear much of the weight load and might need to move faster to change the robot's gait on a ship, required 200W motors.
Gizmag said SAFFiR will also be equipped with a video camera, a gas sensor and a stereo infrared camera for seeing through smoke.
The robot might be ready for testing onboard a ship as early as Sept. 2013.
Request product info from top Fire Extinguishers companies
Thank You!