TetraKO Water Enhancer Featured in White Paper Published by the Technology Council of the International Association of Fire Chiefs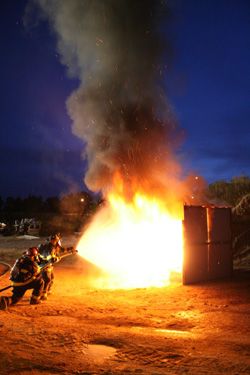 South St. Paul, Minn. – TetraKO, LLC, the fire suppression subsidiary of EarthClean Corporation, today announced that an information paper on its TetraKO next generation water enhancer has been published by the Technology Council of the International Association of Fire Chiefs (IAFC). The white paper was requested after members of the IAFC Technology Committee and Wildland Policy Council attended two days of TetraKO testing at the Texas Engineering Extension Service (TEEX) Brayton Fire Training Field. The fire knockdown tests demonstrated that TetraKO yielded a significant advantage over water and foam.
"Having this white paper published by the IAFC Technology Council – following a full complement of testing at the TEEX Brayton Fire Training Field, is the type of performance validation of TetraKO we seek out," said Doug Ruth, TetraKO, LLC CEO. "When combined with real world results observed by our Peer Group fire departments and other firefighting organizations, it confirms TetraKO water enhancer as a game-changing, bio-based technology."
Day one of the testing performed at the TEEX Product Development Center consisted of TetraKO aerial drops – consisting of level 1, level 3 and a full salvo drops – with attendees witnessing the ability of the technology to be dropped from an aircraft and provide a consistent coating on vegetation and sensitive fuels. Day two featured identical 10' x10' pod burns comparing TetraKO side-by-side with plain water and Class A foam for knockdown performance. The pods were set up using ThermoWorks temperature probes to collect the heat data in the upper thermal and mid thermal levels of the fires.
TetraKO's technology is biodegradable and non-toxic, and has proven to be far superior because its proprietary dual thickening agent allows it to adhere and stay where applied. When heated by fire, TetraKO becomes even thicker and releases a cooler dry steam, dramatically aiding in fire suppression. TetraKO is the first product of its type that contains no super absorbent polymers.
TetraKO will have copies of the white paper in booth #109 at FDIC that begins on April 19 in Indianapolis, Indiana.
About TEEX (Texas Engineering Extension Service)
World renowned for its hands-on, customized training, the Texas Engineering Extension Service offers a wide range of technical and skills training programs aimed at employed workers and those entering the labor force. TEEX provides comprehensive firefighter training and emergency services instruction at its world-renowned Brayton Fire Training Field in College Station, Texas and at customer-specified locations worldwide. During its fiscal year 2011, TEEX provided training and technical assistance to more than 180,450 people from all 50 states, five U.S. territories, the District of Columbia and 73 countries. TEEX is a member of The Texas A&M University System, one of the largest and most complex systems of higher education in the United States.
About EarthClean Corporation
EarthClean Corporation is a Minnesota-based clean technology company whose mission is to develop and introduce environmentally friendly and biodegradable technologies. TetraKO, LLC, a wholly owned subsidiary of EarthClean Corporation, is the firefighting company that helps firefighters attack, suppress, and contain fires. A team of engineers, scientists, and firefighters developed TetraKO water enhancer. Visit www.tetraKO.com for more information and to see the product in action.