UTC Fire & Security Breaks Ground on Fire Innovation & Test Center
Increases engineering presence in Florida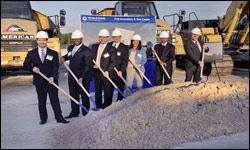 West Palm Beach, FL. – UTC Fire & Security broke ground in West Palm Beach yesterday on a 15,000 sq. ft. Fire Innovation & Test (FIT) Center that will integrate testing, engineering and customer demonstration capabilities into one state-ofthe- art facility, enabling the delivery of leading technologies and cost effective solutions to UTC Fire & Security's customers around the world. The event celebrated a major milestone in growing the company's engineering presence in Florida. UTC Fire & Security is a unit of United Technologies Corp. (NYSE: UTX).
State and local officials attended the event, including U.S. Representative-elect Allen West (R-FL-22), Florida State Senator Lizbeth Benacquisto (R-27) and Florida State Representative Mack Bernard (D-84).
"UTC Fire & Security has an unmatched portfolio of fire safety products to detect and suppress fires," said Bill Brown, UTC Fire & Security president. "Our goal is to be our customer's number one choice for fire safety products, and the development of the Center demonstrates our commitment to leading the industry in fire protection."
Expected to open in January 2012, the Center will include a 3,300 square foot main test hall enabling live fire testing of water mist, clean agent systems, foam and other fixed fire suppression systems, as well as portable fire extinguishers. A cold discharge hall and conference room will complete the customer experience planned for the FIT Center.
"The FIT Center will allow us to conduct scientific testing of fire suppression systems, share this learning with industry regulators, and demonstrate the capabilities to customers, all in an environmentally-responsible way," said Bill McGann, vice president of engineering for the company's global fire products business. "We have designed and are constructing the Center to mitigate the environmental footprint of the operations, and will seek the highest level of certification possible for this type of facility from the U.S. Green Building Council's Leadership in Energy and Environmental Design (LEED) program."
The facility will focus on technologies that suppress and extinguish fires, including the Marioff HI-FOG® water mist system. HI-FOG uses 80 percent less water than traditional sprinklers and has been proven effective in both commercial and residential applications, but faces a critical regulatory barrier as many states mandate traditional sprinkler systems in their building codes.
"Our goal is to work with policymakers to properly recognize new, more effective fire suppression technologies and make it easier for these to be adopted into building codes, making our communities safer," said Brown.
About UTC Fire & Security
UTC Fire & Security provides fire safety and security solutions to more than 1 million customers worldwide on an annual basis. Headquartered in Connecticut, U.S., UTC Fire & Security is a business unit of United Technologies Corp. (NYSE: UTX), which provides high technology products and services to the building and aerospace industries worldwide. More information can be found on www.utcfireandsecurity.com.