Hybrid Hazards Present New Challenges
---
If you have yet to encounter a hybrid car emergency call, chances are it won't be too long until you do.
In 2000, there were just 9,500 hybrid vehicles sold in the United States, while sales last year topped 250,000. 
New technology always presents new challenges for first responders. But for Todd Hoffman, founder of Scene of the Accident emergency personnel training group, myths surrounding incidents involving hybrid cars outweigh the actual real dangers.
"There's a lot of lot of misinformation out there," he said.
"I get letters and e-mails all the time from departments that say things like, 'If we have a hybrid vehicle we'll call the power company before we touch it,' which is just ridiculous."
The biggest fear, and myth, said Hoffman, is the risk of electrocution.
"A lot of people think just touching (the vehicle) after an accident will electrocute them," Hoffman said. "Another is that putting water on the vehicle could cause an electric shock."
Nationwide advice
Hoffman founded the non-profit corporation in Houston four years ago, and he now travels around the country to offer advice on vehicle safety, construction and systems to first responders.
He said he has seen an increasing demand for hybrid car response advice of late, particularly from rural volunteer departments, many of which have yet to respond to an incident involving a hybrid.
Hybrid car fires present no more of a risk than conventional car fires, according to Hoffman. 
Generally, they should be handled using standard vehicle firefighting procedures. In addition, hybrid-vehicle manufacturers have produced extensive emergency response guides.
"There's thousands of hybrids on the roads, and when you take account the mechanics who work on them as well, the people who work on them in junk, there's not been one person who has been electrocuted by a hybrid," Hoffman said.
However, firefighters should be aware of one lesser-known hazard: hydrogen gas.
"When water is used on a nickel-metal hydride battery, which is used in hybrids, hydrogen gas forms," Hoffman said.
Impaired judgment
Exposure to hydrogen gas can cause dizziness, reduced awareness and impaired judgment. 
To prevent contamination, Hoffman suggests ventilating the vehicle by keeping the trunk open and rolling the windows down.
Emergency Response Guides
---
"Emergency response guides are intended to be read prior to an incident and used as a resource tool should the responder need to reference back to the recommendations," says Ron Shaw on Extrication.com.  "No two manufacturers' hybrid systems are alike, and often each hybrid system between model lines within a make is unique, hence the need for individual ERGs for each hybrid. While an ERG can be used by any emergency responder, the intended target audience is the company officer, training officer or extrication instructor who may be presenting a company awareness program for hybrid safety."

Toyota Hybrid ERGs
Honda Hybrid ERGs
When it comes to extrication, the major threat to first responders comes not from electric shocks from the car, but from unexpected movement.
"Unlike conventional vehicles, hybrid vehicles can run silent and start off instantly, similar to an electric golf cart," said Ron Shaw, founder of Massachusetts-based Extrication.com, which provides information and training for emergency responders.
"There is no cranking of the engine — the vehicle can start off in electric power mode."
He outlined an ideal sequence for hybrid-vehicle extrication:
• Immobilize the vehicle: Prevent the vehicle from moving under its own power or gravity. Chock the wheels, shift into park, shut the vehicle OFF and remove the key/keyless FOB to a distance greater than 16 ft/5 meters.
• Disable the vehicle: If not already done, shut the vehicle OFF and when possible, disconnect the 12 Volt battery power when performing extrication.
• Stabilize the vehicle: Transfer the vehicle's weight from the suspension system to the frame on to cribbing.
 
The simplest way to disable a hybrid, said Shaw, was to turn off the ignition system using the cut metal key or power button. This task accomplishes the following key functions:
• Shuts down the hybrid system.
• Takes the high voltage battery pack out of series.
• Shuts down the fuel pump.
• Stops the flow of electricity to the SRS control unit.

Shaw added that concerns about extrication operations while hybrids are submerged are unfounded.

"There is no potential for electric shock if the vehicle is partially or fully submersed in water," he said. "Simply touching the vehicle's body and performing normal extrication tasks will not cause electric shock. Responders will not be electrocuted while standing in water and touching the vehicle's body."

Growing market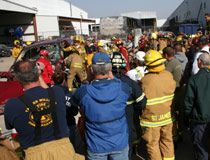 Firefighters observe a training session run by Scene of the Accident.
It has been more than six years since the first hybrid – the Honda Insight – went on sale in the United States.
All major automobile manufacturers now have hybrid cars either on |the market or in production.
"We had the first hybrid car for sale here in the U.S. way back in 2001," a Honda spokesman said.
"Any issues have been pretty well ironed out since then. We considered all the things that might occur as there is liability involved.
"There are good procedures in place to prevent injury from electric shock."

Request product info from top Extrication Tools, Cutters and Spreaders companies
Thank You!