8 game-changing apparatus trends from 2017
New technology allows fire departments to get more operational capability out of less fire apparatus, keeping up with a changing scope and decreased staffing
---
As 2017 quickly draws to a close, let's take a look at what's trending in fire apparatus and where that trend will likely continue in 2018 and beyond. In my research for this piece, I've looked for those fire apparatus developments that struck me as game changers and identified these seven trends. I trust you'll agree – and submit some of your own as well!
1. Fire apparatus as a communications hub
Successful management of emergency incidents is dependent upon reliable on-scene communications and the ability to access information that's stored in the cloud. This need is becoming increasingly important as more fire departments are using technology for incident command, personnel accountability and pre-fire planning.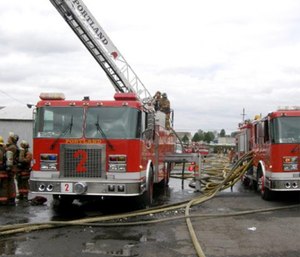 A traveling WiFi hotspot on board each emergency response vehicle enhances both the safety and effectiveness of public safety personnel. With WiFi technology, you can:
Link emergency response crews to vital information
Instantly convert any crew vehicle into a central command unit
Easily track the location of all vehicles in your fleet
2. Wireless communications for fire apparatus operators
The busiest person on most fire scenes is the fire apparatus operator. Whether it's the engineer on the first-in pumper or the truckie getting his or her aerial apparatus into a tactical position, wireless headset technology is helping to keep those personnel in the communications loop with the incident commander and the company officer.
3. Apparatus data recorders
Technology is becoming more prevalent to monitor, record and report chassis and vehicle events in real time, similar to the black box found aboard commercial aircraft. It can also collect information on vehicle operator performance, such as speed, turning and braking forces, all of which can be turned into customizable reports.
In the 2016 edition, NFPA 1901: Standard for Automotive Fire Apparatus vehicle data recorders that can capture data to use in promoting safe driving and riding practices were added as a requirement for new fire apparatus (Chapter 4: General Requirements).
This technology provides fire departments with a tool for improving vehicle operator performance, as well as protection from legal exposure in the event of a motor vehicle crash involving fire apparatus.
4. Driving and crew areas
NFPA 1901 also now requires a warning device that indicates when an occupant in a designated riding position is not wearing a seat belt (though I like the technology, why don't all firefighters wear their seat belts 100 percent of the time?). Also, all crew cabs on apparatus with a GVWR over 26,000 pounds (11,800 kg) must protect occupants during a crash.
5. Apparatus operator assistance technology
Rosenbauer's EMEREC Information Management System includes individual modules to aid the fire apparatus operator in getting the rig and the crew to the scene safely, effectively and efficiently. The EMEREC DEVS (Driver Enhanced Vision System) supports the driver in poor visibility conditions using three components:
A navigation component that improves a driver's ability to navigate in situations where precise navigation is necessary, for example, at airports, on factory or military installations, or on industrial facilities 
A tracking component that improves the vehicle operator's situational awareness – GPS signals enable the operator and officer to see the location of other DEVS-equipped vehicles on a map in real time
A vision enhancement component that uses a forward-looking infrared camera to provide the vehicle operator with better visibility for navigation under poor visibility conditions (e.g., smoke, fog or extremely dark environments – like the EMS call for a heart attack on a dark, stormy night)
6. Vehicle collision avoidance technology
This technology, that's becoming commonplace on many passenger vehicles, is making its way into the fire apparatus world as well. WABCO's OnGuardACTIVE detects moving, stopped or stationary vehicles ahead and warns the vehicle operator of possible rear-end collision by providing audible, visual and haptic warnings.
Using radar-based technology, it measures the fire apparatus' position in relation to others on the road, and when appropriate, the system applies the brakes to avoid or mitigate an avoidable collision. The system's 77 GHz radar registers vehicles as one of three types of threats:
Moving – a vehicle that is currently and continuously in motion in the same direction as your fire apparatus;
Stopped – a vehicle the radar has registered as moving, but is now at a stop, such as at traffic lights; or
Stationary – a vehicle the radar is picking up, but has never seen move, such as disabled cars.
The system also has active braking as fire apparatus approaches a stopped or stationary vehicle that provides audible and visual warnings, a haptic warning (short brake pulse which causes drivers to respond faster to imminent rear-end collisions) and active braking on all three classifications of vehicle the radar registers, even when cruise control is not set.

The adaptive cruise control maintains the set speed while in cruise control mode when the lane ahead is clear, and will automatically adjust the vehicle's speed to maintain a set following distance when a vehicle ahead is detected – a good feature for fire apparatus that typically responds over great distances using highways.
7. Integrated hydraulic technology
As more fire departments embrace the concept of rapid response vehicles, integrated hydraulic technology has become an attractive option to give smaller fire apparatus some big apparatus capabilities. For example, IHT enables one hydraulic pump to support the following equipment from a skid-load package on a Ford F-250 truck chassis:
2 rescue tools and reels
10kW generator
Light tower
150 GPM pump
Hose reel
Electric reel
8. Decreased pump footprints
Improvements in the designs of both centrifugal pumps and PTO pumps, and the associated piping, have enabled fire apparatus manufacturers to use less space on fire apparatus for the pump and plumbing. This is giving fire departments more compartment storage space, a big plus for departments that need to carry a wider variety of equipment and supplies to meet their mission.
The overall trend that I see with fire apparatus is the desire for fire departments to get the most utility out of the vehicles they purchase or lease. The multi-purpose fire truck with plenty of compartment space to carry equipment is becoming increasingly important as the mission of many fire departments has continued to grow in scope.
I believe it's also a consideration for many departments, career and volunteer alike, who are finding themselves in a position where they need to deliver services with less than desirable staffing levels. Multi-purpose fire apparatus give those departments many of the tactical capabilities they need from one or two vehicles, which may be all that they can get to the emergency scene.
References
1. Fire Apparatus Manufacturers Association. "The Future of Fire Apparatus and Emergency Equipment." Available at: https://fama.org/wp-content/uploads/2015/09/1441306255_55e8968fa7fb0.pdf
2. SetCom Corp. Available at: www.setcomcorp.com/fire.html
3. Fire Research. Available at: www.fireresearch.com/