Fire truck chassis gains leg, hip room
Spartan Chassis increases the Gladiator volume to 5,827 cubic inches — without changing its width
---
Spartan Chassis unveiled the Gladiator chassis at the 2014 Fire Department International Conference in Indianapolis.
Feedback from Fire Department Safety Officers Association meetings led to the redevelopment of the chassis, said Michael Bowman, vice president of emergency response chassis. FDSOA members include public-safety professionals and industry manufacturers and associations.
"We heard at FDSOA meetings that there was a need for more room in the cab," Bowman said.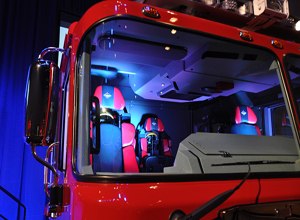 Without changing the 99-inch width chassis, Spartan increased the volume to 5,827 cubic inches. This breaks down to a 10 percent increase in hip room on driver's side of tunnel; an 11 percent increase in hip room on officer's side door to side of tunnel; a 6.6 percent reduction in tunnel height; and a 3.8 percent increase in leg room for the two center forward-facing crew members.
"An inch of space if worth a lot," Bowman said. "And we did this without expanding the width of our cab. It is still a 99-inch cab.
The Gladiator also has next-generation seats from Spartan with elastomer vibration control that lead to a 50 percent vibration reduction, Bowman said. It also has improved ergonomics.
"While standard seats were 19 inches, the new seats are 22 inches on the cushion base," he said. "The user's body more easily molds to the seats."
Seat material also staves off blood-borne pathogen exposure.
"This material will allow you to clean up in the event blood-borne pathogens materials versus a fabric that would be harder to clean," Bowman said. "It is another safety aspect of the chassis."