Former Soviet country unveils vast 9/11 memorial
U.S. humanitarian group delivers donated firefighting equipment and opens the memorial
---

Editor's Note: 1 Department is a new exclusive section for FireRescue1. In it, we'll take a close look at one fire department with the intention that FireRescue1 readers will not only learn about their peers, but from them as well. This story is atypical of what we plan to do with this section. But as you will see, it is a special enough story to warrant special treatment.
The Republic of Georgia is a country about the size of South Carolina that is wedged between Russia, Turkey and the Black Sea. About 12 miles outside Georgia's capital, Tbilisi, is one of the country's oldest cities, Mtskheta, with a population of roughly 20,000.
New York City and its 8.4 million residents are 5,600 miles from Mtskheta. Yet earlier this month, the two cities became forever intertwined. Mtskheta dedicated 3,000 square meters of land — just under two square miles — to house a marble sculpture and 343 evergreen cypress trees in honor of those firefighters who died in New York during the 9/11 terrorist attacks.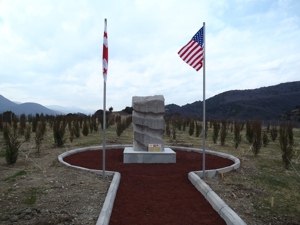 Photo by Ron Gruening
The Republic of Georgia's 9/11 memorial spreads across 2 square miles.
Representing the United States at this dedication was Ron Gruening, president of the International Fire Relief Mission — and with good cause.
Gruening and his team were in the Republic of Georgia to deliver a donated fire truck to the Mtskheta Fire Department. He also led a trip to that city in Nov. 2010, where IFRM delivered a 40-foot shipping container of donated firefighting and EMS gear — enough to outfit about 300 firefighters, including all of Mtskheta's firefighters and those of several neighboring towns.
"It was a very moving ceremony," Gruening said of the 9/11 memorial dedication. "It was quite humbling for me to be here and be part of this dedication."
In the interest of full disclosure, I serve on the IFRM board of directors and was part of the team in Georgia in 2010. The Georgians' appreciation for the donated gear was as genuine as any I've seen in other countries we've visited.
Mtskheta firefighters sought help from IFRM after a military conflict with Russia left their only fire station destroyed. The city rebuilt the station, but had no way to supply it with SCBA, PPE, hoses or other firefighting gear. When I was there, the department had one working ladder, no turnout gear, no SCBA and limited hoses and nozzles.
The gear IFRM delivers is donated from fire departments across the United States. For the most part, the gear has good service life left in it but no longer meets NFPA requirements.
IFRM sends a team to each country to ensure the gear makes it into the hands of firefighters and to instruct those firefighters on the equipment's safe and proper use.
The Mtskheta Fire Department also had only two barely working apparatus. On this trip, IFRM delivered a 1981 Pierce pumper on a Ford chassis donated by the Dodge Center (Minn.) Fire Department. The truck was fully stocked with equipment donated by several departments and Rosenbauer America.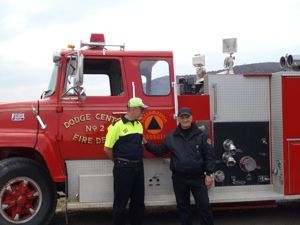 Photo courtesy of IFRM
IFRM President Ron Gruening (left) and Mtskheta Fire Chief Avto Tsiblshvili wth the donated apparatus.
During the dedication ceremony, Georgia's State Deputy Governor Givi Maisuradze thanked IFRM for the donations from the United States. He also paid tribute to New York's fallen firefighters.
"Dear guests, with great sorrow I would like to remind you that the terrorist attacks in the U.S.A. of Sept. 11, 2001, brought pain and sorrow not only to the American people, but it was great pain for everybody," Maisuradze said at the dedication. "Unfortunately, together with thousands of victims, 343 firefighters from New York perished heroically performing their job during the act of terrorism.
"It's very important that this memorial garden and monument is dedicated not only to heroically perished firefighters, but it is a symbol and a demonstration of friendship between the American and Georgian nations."
Make no mistake, the Georgians are very motivated to further develop favorable relations with the U.S. government. But it is hard to imagine that this monument and park will carry much international political capital or that such capital was a main driver behind this effort.
Giorgi Atashvili, deputy chairman of the Mtskheta Municipal Council, said the marble spiral memorial is a symbol of fire and smoke. Atashvili served as liaison for the IFRM team and translated Maisuradze's remarks.
"It was an experience of a lifetime and a memory that I will always cherish for the rest of my life," said Iowa City Firefighter Brandon Pflanzer of the memorial dedication. Firefighter Pflanzer made his first trip as part of an IFRM team.
"That it is truly a moving gesture when a country 5,000 miles away is willing to put up a memorial honoring the American lives lost … and that people in America are already forgetting about the events that happened on Sept. 11, 2001," Pflanzer said. "It really drives home that no matter where you are in the world, firefighters are brothers and will always be there for each other and never forget."
For IFRM, this is by far the largest but not the first 9/11 memorial dedication where the group has represented the United States. Similarly, the former Soviet Bloc country of Moldova built a monument to all fallen firefighters and paid special tribute to those from New York during its ceremony.
When he returned from Georgia, Gruening brought with him a section of the ribbon from the memorial dedication ceremony. He's looking to deliver it to FDNY in the near future.
"We are working now with several organizations to set up a formal ceremony to hand over the ribbon from Georgia's 9/11 memorial," Gruening said. "IFRM is a conduit for donated equipment. It seems fitting that we can also be a conduit for the goodwill that flows back from those countries to the United States."