New fire trucks: What's in a bumper?
More than a shiny place to mount the Q, planning the front bumper function is a big part of specifying a new truck
---
When I first started my fire service career in the late 1970s, most fire service pumpers had a nice shiny chrome bumper across the front of the apparatus. That's it, a bumper. 
Front suction intakes were just starting to emerge in larger departments and were still very much an anomaly. Today's fire pumpers are packing a lot more punch on the front bumper.
"Everyone wants the shortest wheel-base [on their fire apparatus], the most compartment space possible, and it has to fit into a fire station built at the turn of the century," says Ryan Slane, product manager for KME Fire Apparatus' Pumper/Tanker Group. "The first thing we have to do together is help the client prioritize their needs, and then we can start working on designing apparatus that meets those needs."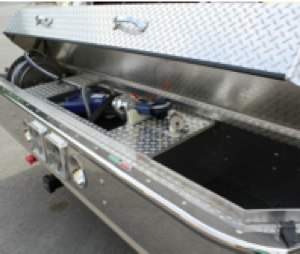 One piece of real estate that helps KME and other fire apparatus manufacturers to meet those customer needs is the front bumper. 
"We're designing and building more pumpers that have fire suppression capabilities, vehicle extrication capabilities, or both incorporated into the pumper's front bumper," Slane said. "The front bumper has become another compartment if you will."
4 top choices
Fire truck maker E-One recently rolled out a new version of its rear-engine pumper. One of the benefits that company says the rear-engine model offers is more flexibility to use the front bumper for rescue and suppression equipment.
According to KME's Slane, fire departments have requested a front bumper that can accommodate just about anything, but here are the four most popular requests.
Fire suppression capabilities, usually in the form of 100 to 150 feet of 1 ¾-inch fire attack hose that's pre-connected to a piped discharge outlet.
Vehicle extrication capabilities that might include hydraulic, pneumatic, or electric rescue tools, or some combination of all three.
Storage reels for hydraulic or pneumatic lines or electric power cords to power rescue tools, or a combination of the three types of lines.
Flexible hard suction hose that's pre-connected to a swiveling front suction intake that enables the driver/operator to quickly drop the suction line into a drop tank without additional assistance; this is popular for many smaller departments that rely on rural water supply operations.
"In recent years, we've worked with many departments that for a variety of reasons — reduced staffing or reductions in funding for apparatus — have had to incorporate fire suppression functions and vehicle extrication capabilities into one vehicle, the rescue pumper," Slane said. "The front bumper area is the one place where we help them locate equipment to meet that need."
So when your department is looking to specify its next pumper for purchase, paying particular attention to how what's out front can help you and your people to have the edge when responding to emergency situations. There's more to the front bumper than meets the eye.

Request product info from top Fire Apparatus companies
Thank You!