October 2008 Product Round Up: Apparatus
FireRescue1 is focusing on news and information about fire apparatus throughout the month of November 2009. Check out some of these apparatus and apparatus accessories currently on the site:
Disclaimer: The products and companies in the below Round Up are sponsors of FireRescue1.com. Their inclusion in this article is for informational purposes only and does not represent an endorsement by FireRescue1 or its editorial staff.
Aerial Vehicles from Fire Trucks Plus

Fire Trucks Plus has a large selection of "Certified" Pre-Owned Aerial Towers, Straight sticks, Telesqurts and Platforms for sale. Some of the vehicles we are currently offering include: 1980 American La France 75' Aerial, a 2002 Pierce Dash 100' Sky Arm Platform, and a 1985 Seagrave 75' Aerial - refurbished in 1996. Call 877-397-3875 or visit www.firetrucksplus.com.
Command Fire Apparatus Brings you Used Apparatus at Great Prices
https://www.firerescue1.com/ad/?id=430847&sid=280799&from=430847Command Fire Apparatus offers great deals on used apparatus, like this dependable late model Sutphen 1500/1000 rescue pumper for sale. She features a fully enclosed cab, 1500 top mount pump, pump and roll booster reels, 1000 gallon tank, foam system, rescue style compartments with roll-up doors and much more including diesel generator and light tower. For more information, visit www.commandfireapparatus.com or call 866-238-6688.
Check out the Ferrara MVP Pumper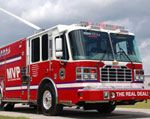 Ferrara's MVP pumper will definitely be the most valuable truck in your fleet. Designed with firefighter safety in mind, the MVP features extra low cab step height, frame rail height crosslays, low hose bed and lowered body height to make it easier to retrieve equipment. And since the most important part of a fire truck is the pump, the MVP has a midship pump ratable up to 2250 GPM. For more information visit www.ferrarafire.com or call 1-800-443-9006.
Learn What Smart Departments Know Before Purchasing a New or Used Fire Truck
Should your department finance your new fire truck? Financing a fire truck is not the best choice for every fire department. Perhaps a grant, a donation, or paying cash is the best financial method to purchase a new fire truck. First Bankers can help you get the most out of your new fire truck purchase, while maximizing your depatment's budget. Visit First Bankers online for payment calculators, useful articles, or contact First Bankers at 1-877-888-1776 or online at www.firstbankers.net.
For more information on Apparatus products, visit the FireRescue1 Apparatus Product Section at www.firerescue1.com/fire-products/fire-apparatus.