One Giant Leap for Fire Truck Safety
Much like the U.S. space program's evolution from Mercury to Endeavour, Spartan is changing in-cab apparatus safety
---
The following is paid content sponsored by Spartan Chassis
When I began my fire service career in 1981 with the James City County (Va.) Fire Department, our pumper was built on a commercial chassis. Back in the day, the inside of the cab did not have many safety features or soft spots. It was big on metal: large and immovable steering wheel, heavily fortified dashboard, and lots of stuff attached to that dashboard.
The "safety" system back then consisted solely of the lap belt and you had to ensure you had a snug fit, if you even wore it.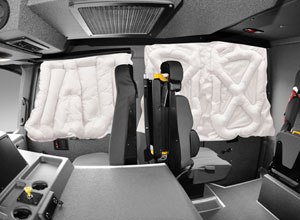 Like the U.S. space program evolved from tiny Mercury space capsules barely big enough to accommodate the astronaut, to the behemoth Apollo V rocket that took man to the moon, and later to the Space Shuttle program, so too have the occupant safety system components in fire trucks evolved.
Today, we have sophisticated lap and shoulder belt assemblies, airbags and cushioning to interior surfaces of cab interiors. And those improvements have extended to the crew compartment — created by the fully enclosed cab.
Unprecedented protection
Those are great improvements for sure, but we still have too many firefighters being hurt or killed en route to or returning from emergency calls. Now Spartan Chassis has taken a quantum leap to protect firefighters in their vehicles with the unveiling of their Advanced Protection System (APS). 
"Our Advanced Protection System provides firefighters with an unprecedented level of protection, and we are able to protect firefighters from side-impact collisions," said Adam Bunday, Graphic and Web Designer (and Volunteer Firefighter) with Spartan. "Our first-of-its-kind satellite sensor system, which works with more and larger airbags, and an intelligent seat-belt system, effectively protects fire-truck occupants from any angle of impact."
Spartan has beefed up its airbag protection for the vehicle operator and officer with frontal knee airbags. These airbags protect the driver and officer from sever lower body injuries that could occur if the body collides with the front dash or other instruments. 
Spartans side-curtain airbags now protect a much wider area of the cab and larger airbags provide greater protection for a wider range of firefighter physical builds. These new side airbags not only protect fire fighters from side impact and rollover injuries, they also prevent occupant ejection. The front side airbags are up to three times larger than their competitors while the rear side airbags are up to seven times larger. 
But more and bigger airbags are just the tip of the iceberg in Spartan Chassis' continuing quest to provide the best in fire truck occupant safety. The real star of the show is Spartan's revolutionary satellite-sensor-controlled airbag deployment system.
Smart technology
Spartan has introduced a state-of-the-art sensor system that takes airbag deployment to a whole new level. Intelligent outboard sensors have been mounted around the perimeter of the cab that link back to the brain of the system, called the Restraint Control Module (RCM). The sensors continuously "talk" to the RCM so that it knows what airbags to deploy and when to deploy them. This means that Spartan fire trucks can now deploy airbags during a side impact, which is an industry first. Other side airbags are not only smaller, they only deploy during a rollover.
Even for an old veteran like me, that is pretty exciting stuff!
The final element to Spartan's new APS is its groundbreaking smart seat-belt system that actually pulls the firefighter into the seat then releases some of the webbing to control the deceleration of the occupant into the airbag system. This reduces pressure on the chest and torso, reducing seatbelt related injuries.
Spartan's APS is a far cry from the safety features on that rig that seemed so new to me in 1981. And it is a far cry, in fact, from the competitive models rolling off the assembly line today. The APS is safety technology that would make a NASA engineer proud.
To fully explain how this new system will improve firefighter safety, we've included two additional articles.
In How the Spartan Chassis Advanced Protection System Works, we'll give you an in-depth look at each of the system's components and how they work together to keep firefighters safer in the cab. And, in Spartan's APS: A User's Viewpoint, we'll introduce you to J.D. Travis of the Dallas Fire Department and show you what he thinks of these new safety developments.