Pierce electric fire truck wins 2022 Popular Science 'Best of What's New Award'
The Volterra EV was recognized in the Emergency Services and Defense category
---
By FireRescue1 Staff
APPLETON, Wis. — Pierce Manufacturing announced Wednesday that its Pierce Volterra zero-emissions pumper won a 2022 Popular Science "Best of What's New Award" in the category of Emergency Services and Defense.
Each year, Popular Science editors vet thousands of candidates in search of the latest innovations that help improve lives, according to a press release from Pierce. The "Best of What's New" list is made up of 100 technologies and products from the past year that stood out in a remarkable way in categories like aerospace, automotive, engineering, entertainment, gadgets and health, among others.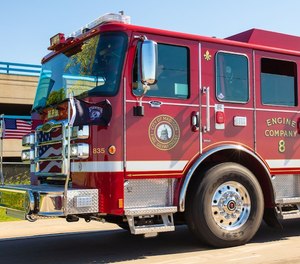 Some of the innovative features and facts about the Volterra pumper noted by Pierce include:
The pumper was the first zero-emissions electric fire truck in service in North America.
The technology supports municipalities' growing environmental sustainability goals to reduce carbon emissions.
The pumper technology consists of a proprietary Oshkosh Corporation patented parallel-electric drive train featuring an electro-mechanical infinitely variable transmission, which allows zero-emissions operation when powered by the integrated onboard batteries.
The patented parallel-electric drive train can also be coupled to the internal combustion engine to provide continuous and uninterrupted power to the pumping system or drive system when needed for sustained long term pumping operations.
The pumper's operational range is tailored to a fire department's needs and duty cycle for full-shift operation.
The unit incorporates a fire station-based, all-encompassing vehicle charging infrastructure provided by a nationwide energy supplier, offering a fast charging solution. 
"Our parent company, Oshkosh Corporation, is a technology industrial company and a leader in electrification, autonomy, active safety, and intelligent connected products," said Eric Linsmeier, business unit director – electrical and software technology with Pierce Manufacturing. "Such a notable designation from a leading technology news source like Popular Science recognizes our commitment to developing electric vehicle solutions to help firefighters save lives and best serve their communities. The Volterra electric fire truck is one of our latest innovations, and it's incredible to see such extensive support and a shared vision for where this technology will take the fire service in the coming years."
Since the introduction in 2021 as the first electric fire truck in service in North America, Pierce has announced the placement of three Volterra zero-emissions pumpers into three communities:
The city of Madison, Wisconsin Fire Department;
The City of Portland (Oregon) Fire and Rescue; and
Gilbert Fire and Rescue Department in Arizona.
All locations represent different climates, allowing Pierce to collect performance data for the vehicle in various environmental conditions.
According to Pierce, over the next year, the company will continue to develop and evaluate the Volterra apparatus to gain exposure and insight into the operational environments that the EV must withstand.