Portland, Ore., to add zero-emissions apparatus to fleet
Pierce and Portland Fire and Rescue agree to place the Volterra electric pumper into service in spring 2022
---
By News Staff
APPLETON, Wis. — The City of Portland (Oregon) Fire and Rescue plans to put into service a zero-emissions electric fire truck.
Pierce Manufacturing, an Oshkosh Corporation company, made the announcement on Wednesday, sharing that it has entered into a joint development agreement with the fire department for a Volterra pumper at the city's busiest station, Station No. 1, in spring 2022.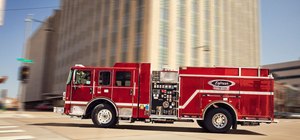 This agreement follows the recent introduction of the Pierce Volterra platform of electric vehicles for the fire and emergency market, including the placement of the first electric fire truck in service in North America with the City of Madison (Wisconsin) Fire Department in June 2021.
Portland Fire Chief Sara Boone considers the addition of the electric pumper a significant contribution to the city's sustainability efforts: "In 2016, the city achieved its 2030 Environmental Performance Objective for Fleet when 35% of fuel use came from renewable sources. Fleet electrification is expected to be a primary driver of carbon emissions reduction from city vehicles, and exploring the role of the Pierce Volterra electric pumper within our fire apparatus fleet is a big step toward reaching our future goals."
Jim Johnson, Oshkosh Corporation executive vice president and president of Fire & Emergency, added: "As we review all the positive data from our Pierce Volterra electric pumper currently in service in Madison, Wisconsin, we're confident customers like Portland Fire and Rescue will also obtain the environmental benefits requested without compromising on the operational, safety, and standardization attributes they love about their existing fleet."
Portland Fire and Rescue's Volterra Electric Vehicle Configuration:
Enforcer custom chassis
Expanded occupant space and visibility
Seating capacity: 6
GVWR: 42,000 lbs.
TAK-4 Independent Front Suspension
1500 GPM single-stage pump
500-gallon water tank
Compartmentation: 150 cu ft plus ladder storage
Hose capacity: 1,000 feet of 5 inch/ 850 feet of 2.5 inch
155 kW hour battery pack to meet Portland Fire and Rescue's daily duty cycle

Request product info from top Fire Apparatus companies
Thank You!