Spartan joins with Gimaex to bring two trucks to US
French-based Gimaex's units have been used in Europe and are being configured for the US market
---
Spartan Motors has entered a partnership with French-based Gimaex and introduced two firefighting vehicles to the U.S. market at FDIC.
The most profound of the two is a 138-foot aerial rig with a telescopic articulated platform. The truck, which Spartan calls Telstar, has an overall length of 41 feet six inches and a 240-foot wheelbase.
It has six telescoping sections with articulation that allows the boom to be positioned at a 90-degree angle. This, a company spokesman said, allows departments to reach over utility lines or go as deep as 23 feet below grade.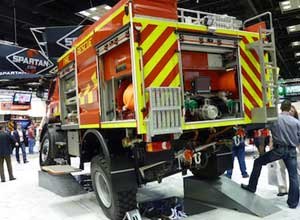 The basket can rotate 50-degrees on either side of center, has multiple openings and comes with sensors to detect obstacles, said Jim Salmi, Spartan's general manager of the aerial division. The basket also has a camera, monitor and can be equipped with a thermal imaging camera.
"This Gimaex has been used in the heat of Dubai to the northern slopes of Sweden," Salmi said.
The aerial turntable is controlled from a seated position at the back of the unit with side access. The basket sits in the middle of the rig.
The truck carries 300 feet of 5-inch supply line, cross-lay hose, 120 feet of ground ladders and an assortment of pike poles. It has a 300-gallon tank and a 2,000-gpm Hale 8FG pump — the TaskForceTips basket monitor can flow 1,500 gpm.
The company also brought its prototype RXO wildland vehicle to FDIC. That vehicle's chassis will be made in Michigan and it should be on the market by mid-2013.
Dave Ver Steeg, Spartan's director of engineering, said the truck has underbody spray bars on both the front and back as well as over the cab spray bars to protect firefighters getting in and out of the vehicle. It has an 80-gallon tank dedicated to the spray bars and a 100-gallon tank for firefighting to go with 25 gallons of foam capacity.
The truck has 17 inches of ground clearance and can traverse 36 inches of water with the standard package. The body is connected to the chassis in such a way that it allows the two to rotate independent of one another, giving the truck the ability to twist laterally over obstacles or through rough terrain.
It has 138-inch wheelbase and a 23.4-foot turning radius.
Like the aerial, this unit has also been used in Europe and is being configured for the U.S. market.
The truck's body has no welds. Ver Steeg said that this all-bolt design allows for easy modification of the body components. The cab seats six.
The unit also comes with a touch-screen computer in the rear compartment that will remotely control all of the truck's functions.

Request product info from top Fire Apparatus companies
Thank You!