The mounting challenge
Planning for equipment mounting is a very important part of the final delivery process for new fire apparatus
---
You just awarded the bid for your new $400,000 engine or a $1 million ladder truck to a manufacturer. The truck committee worked hard on the specs and you think you have covered everything possible.
All you have to do is perform a before-paint and a final acceptance inspection at the factory. Or, if your department has the extra cash, maybe a few more inspection trips.
So now all you have to do is sit back and relax, right? Wrong. It's now time to start planning for equipment mounting, which is a very important part of the final delivery process.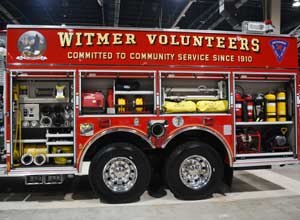 To begin with, there's some simple things to consider. Are you planning on mounting the tools yourself after you take delivery at your department with your in-house mechanic? Or, are you having the local dealer do it at his shop?
Some manufacturers can even perform it at the factory if you are close and able to bring all of the tools to mount. PL Custom/Rescue 1 is one company that does a super job, using up all available space. That's not to say other dealers or manufacturers don't.
Make sure that when you spec out the rig, you have extra space that you can use if needed in the future. Probably the reason you are purchasing the vehicle is to have more space, especially if it is 15 to 20 years old.
There are many companies out there that can provide you with mounting options and specialized brackets to get the job done neatly. Ziamatic, Performance Advantage Company, Sensible Products and GearGrid Systems are a few.
When you begin the process of writing the specs for your new rig, consult NFPA 1901 to see what equipment is required that you carry on each type of apparatus whether it be a pumper, ladder, quint or heavy rescue.
More importantly, go to the FAMA (Fire Apparatus Manufacturers' Association) website, www.fama.org, which has an excellent tool that can be downloaded for free. This worksheet enables you to calculate the portable equipment load to be carried on an apparatus.
The weight and dimensions of all equipment that is commonly carried on a piece of apparatus is listed; all you have to do is list the type of equipment and what compartment you plan to carry it in. This will let the manufacturer know what the apparatus chassis is capable of carrying.
The dimensions of each piece of equipment are given to assist in planning compartment size or the location on an apparatus. Where the purchaser wants to carry specific equipment in a specific compartment, that compartment designation can be shown in the column titled "compartment location." The worksheet is in an Excel format and really easy to use.
By using this tool, it can help avoid your big investment being delivered overweight or, worse, not having the compartment space to carry the equipment you need for work on the fireground.
With proper planning you can make sure that you will have a really well thought-out piece of apparatus that will serve you for many years.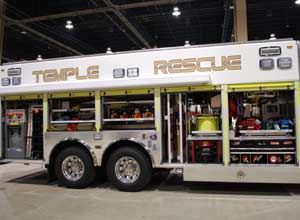 Heavy rescue tool, with mounting done by PL Custom/Rescue 1.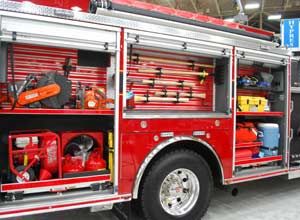 Crimson pumper outfitted by local dealer.

Request product info from top Fire Apparatus companies
Thank You!