Atlantic Coast Fire Trucks Expands Service for Smeal™ Fire Apparatus in North Carolina
---
SNYDER, NEB. – Smeal Fire Apparatus Co. today announced that Atlantic Coast Fire Trucks, the authorized sales and service dealer for Smeal™, US Tanker™ and LTC™ brand apparatus in North Carolina, South Carolina and eastern Tennessee, has opened a new service facility in Denver, NC. This 7,500 square foot facility is located northwest of Charlotte, NC, and provides full fire apparatus service, including preventative maintenance programs, chassis service including brake repair replacement, electrical and hydraulic system repairs, aerial and pump repairs. It provides expanded service capacity from the dealership's previous service center in nearby Mooresville. The new service manager for the service facility is Mark Hammill, master EVT and ASE certified technician. 
"We are extremely pleased to add this new location and expand service capabilities for our customers in our assigned territory," said Steve Dill, president of Atlantic Coast Fire Trucks. "Centrally located, this facility can easily reached by our customers in North and South Carolina as well as eastern Tennessee."
"Providing both exceptional, customized products and service is a long-standing priority for Smeal, and we're very happy that Atlantic Coast Fire Trucks has made this commitment to expanding and enhancing service for our customers, including the City of Charlotte, where the entire fleet of front-line apparatus are Smeal brand," said Jeff Wegner, Smeal's Vice President – Sales.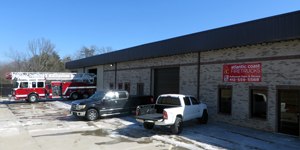 Atlantic Coast Fire Trucks was established in 2012. The company is owned by Steve Dill, a former volunteer firefighter and Smeal dealer principal for over 23 years. ACFT has nine full-time employees, with service centers located in Denver, North Carolina, and Murrells Inlet, South Carolina.
To learn more, visit www.facebook.com/ACFireTrucks.
Smeal Fire Apparatus Co.
Smeal Fire Apparatus Co., including US Tanker Co. and Ladder Tower Co., is recognized as a premier manufacturer, inventor and innovator of customized fire apparatus. The company offers a full line of custom and commercial pumpers, rescue pumpers, mini and rescue pumpers, stainless steel tanker / tenders, aerial ladders, platforms, TDA's, wildland, and urban interface vehicles. Smeal is committed to leading the industry in high quality fire apparatus, delivery times and customer experience. Smeal sells its products worldwide and is based in Snyder, Neb. To learn more, visit smeal.com.