PRESS RELEASE
Ferrara Fire Apparatus Delivers Its 5000th New Truck
---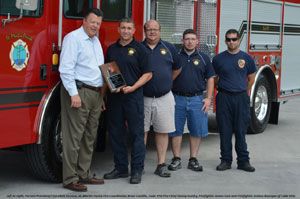 Holden, LA – Ferrara Fire Apparatus, Inc., America's premier custom fire apparatus manufacturer, marked a company milestone today with the delivery of its 5000th new fire apparatus.  The recipient of truck number 5000, St. Martin Parish, Louisiana, is no stranger to Ferrara vehicles. The parish's first apparatus from the Louisiana-based builder was truck number 101.
St. Martin Parish Fire Coordinator Brian Castille, whose fire district has received many trucks from Ferrara Fire Apparatus, received a commemorative plaque from company President and CEO Chris Ferrara. "It's true Ferrara builds a solid truck," noted Mr. Castille. "But the customer service is what really what keeps us coming back to them. If one of our trucks is in need of repair, they're always there to take care of it and keep our trucks in service to the Parish."
From a small beginning in a facility on Mammoth Drive in Baton Rouge, Ferrara Fire Apparatus built their first new fire truck in 1988. Built upon a reputation as a custom builder who used heavy duty materials, Ferrara began a pattern of steady growth that continues today. The company moved to its present location in Holden in 1994, a factory designed especially for fire apparatus construction. Ferrara has nearly 300,000 square feet of manufacturing area and employs a work force of over 400 people in Louisiana and across the country. 
In a 2007 article, the late Peter Jorgensen of Fire Apparatus & Emergency Equipment magazine gave Chris his famous nickname, "Mr. Heavy Duty". In that same issue, Ferrara Fire Apparatus was noted as the fastest growing manufacturer of fire apparatus in the country.
"We've learned much along with way in our 25 years of building custom fire apparatus, but maybe the most important is to stay true to our core beliefs and those things that made us successful," said Mr. Ferrara. "We believe in our style of construction, heavy-duty and custom built to the fire department's specifications. That was the case when we started out and is true today with our 5000th delivery. Customers such as St. Martin Parish have made the company a success. They gave us a try when we were new to the industry. Looking to the future, we will continue to engineer and build each truck to the fire departments' custom requirements and follow that up with outstanding service after the apparatus is delivered."
About Ferrara Fire Apparatus
Ferrara Fire Apparatus manufactures a full line of fire, emergency and rescue vehicles. The company offers the Ultra, Inferno, Igniter, Ember and Intruder 2 custom fire chassis.  These, along with a wide selection of commercial chassis, are then converted into pumpers, tankers, rear and mid-mount aerial ladders and platforms, rescues and incident command vehicles and high-flow industrial apparatus.  A leading innovator in the industry, Ferrara takes pride in offering such firefighter safety items as the MVP, On-Site Tilt Table Testing, Cab and Body NFPA Compliant Crash Testing, Independent Front Suspension, Complete Airbag Protection, and SmartWheel steering systems.