Gershow Recycling Donates Five Vehicles for Extrication Class at Fire Women of Long Island Conference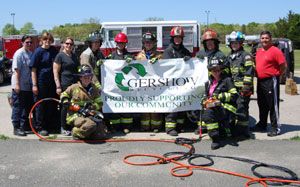 Yaphank, NY — In support of local Fire, Rescue and Emergency Medical Services crews, Gershow Recycling donated five cars for a Heavy Rescue – Auto Extrication class during the Fire Women of Long Island Conference that was held May 19 at the Suffolk County Fire Academy in Yaphank.
Female student firefighters learned about the principles of extricating victims from an automobile crash. In addition to basic strategies for a "vehicle on all fours," students practiced advanced techniques for overturned vehicles. Veteran instructors provided "tips" for the operation of extrication tools and students were provided the opportunity to improve their skill level. The Fire Women of Long Island thanked Gershow for its support.
Gershow has eight locations in Brooklyn, New Hyde Park, Valley Stream, Freeport, Lindenhurst, Huntington Station, Bay Shore and Medford. For more information, call (631) 289-6188 or visit www.gershow.com.
About Gershow Recycling
Started in 1964 by Sam Gershowitz, Gershow Recycling began as a two man operation with a tractor and trailer, a boom truck and the first portable car flattener. Now with the second generation carrying on the legacy, Gershow generates over 750 jobs, contributing millions of dollars to the local economy, while helping to preserve Long Island's environment. Gershow Recycling takes aluminum, brass, copper, steel, cast iron, appliances, cars and vehicles. In keeping with its philosophy of "Conserving the Future by Recycling the Past," Gershow Recycling purchases scrap metal that would have otherwise wound up in local landfills, and turns them into high-quality scrap products for recycling. The company produces both ferrous and non-ferrous products.