Protect Expensive In-vehicle Equipment with the New Trunk Tray System by Havis
The Industry's First Fold-down Trunk Tray System Maximizes and Organizes Vehicle Space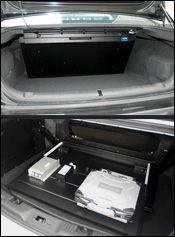 WARMINSTER, Pa. – For mobile workers, utilizing the space within their vehicle becomes more challenging as the amount of in-vehicle equipment increases. Although the trunk offers additional storage space, it must be properly organized to prevent damage to equipment. Last week, Havis Inc. announced the industry's first Fold-down Trunk Tray System that provides users with a mounting surface for equipment while maximizing the remaining trunk space.
An organized trunk provides quick and easy access to necessary equipment, and minimizes clutter to help mobile workers keep track of their tools. Mounting equipment in the trunk also frees up additional cab space and provides a safer environment for both the driver and any passengers. With less equipment in the cab, drivers reduce in-vehicle distractions as well as their risk of being injured by equipment during an accident.
Improperly positioned equipment near the dashboard is more likely to interfere with a deploying air bag, which could tear the bag and even dislodge the item. When properly mounted in the trunk, expensive electronics, such as laptops, communication devices and video equipment, stay secured in place and undamaged through pursuits, sharp turns and collisions.
Although mobile workers depend on a number of these electronics and other technologies, many newer vehicle models are actually offering less interior space for such equipment. Therefore, Havis designed this new trunk tray to utilize the area along the back wall of the trunk, leaving the rest of it open for access to the spare tire or for storage of larger items, such as cones and barricades.
The Havis Fold-down Trunk Tray System features a hinged door with a sliding tray that pulls forward for easy access. Valuable equipment can be securely mounted to this tray, which is then folded up and locked in place with heavy-duty locking latches. Once closed, the items inside will be protected from damage and theft.
The Fold-down Trunk Tray is currently available for the Ford Interceptor Sedan and Chevrolet Caprice, and will soon be offered for the Dodge Charger. It joins a full line of Havis heavy duty trunk solutions, including full width slide-out trays, trunk side mounts and trunk mount accessories. Havis' trunk products are constructed of welded steel for added strength and support.
Havis understands mobile worker needs and utilizes customer feedback to design new and innovative products to meet the needs of mobile workers. Havis also works closely with Ford, Chevrolet and Dodge to ensure that vehicle-specific products provide a superior quality fit and finish inside each model. For more information on the new Fold-down Trunk Tray System, click here.
About Havis
Havis Inc. is a privately held company that manufactures in-vehicle mobile office solutions for public safety, public works, government agencies and mobile professionals. For over 80 years, the Havis mission has been to increase mobile worker productivity with industry-leading products that are built to the highest safety and quality standards and are designed with comfort in mind. Headquartered in Warminster, Pa., with an additional location in Plymouth, Mich., Havis currently employs 175 people. For more information on Havis, please call 1-800-524-9900 or visit www.havis.com.