PRESS RELEASE
Tallying up the Toyne apparatus: Moncure Fire Department adds fourth Toyne to fleet
---
MONCRUE, North Carolina – After a full inspection of their latest Toyne apparatus, the Moncure Fire Department (MFD) has taken delivery of a customized pumper. This arrival represents the department's fourth apparatus made by Toyne over the past decade as they continue to strengthen their operational capabilities. 
"Being able to work with departments repeatedly means a great deal to us. We are driven to not only build quality apparatus but also build a level of trust not found anywhere else," said Mike Schwabe, President of Toyne. "Partnerships, such as this one, are the result of our team's uncompromising craftsmanship and the dedication of Authorized Toyne Dealers to ensure customer needs are met."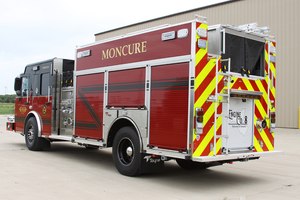 The Melton Fire Group (MFG) sold the fourth Toyne Apparatus to MFD. Based out of Greensboro, North Carolina, the dealer serves fire departments throughout the Tar Heel State. MFG has been a long-standing Authorized Toyne Dealer and was named the 2012 Toyne Dealer of the Year.
Moncure's pumper body was stall built by Toyne with bolted, painted stainless steel. Numerous quick-access storage options and scene support solutions were designed throughout the apparatus body.
MFD firefighters can rapidly respond to emergencies by utilizing the pumper's 1,000-gallon UPF tank and 1,500-GPM Hale Qmax pump. For additional scene support, crews can control an 18" Task Force Tips Crossfire monitor on the top side of the apparatus. Every angle of this pumper is designed to elevate the department's capabilities.
Toyne mounted the pumper body on a Spartan Metro Star MFD chassis with a 10" raised roof. Under the hood: a 450-HP Cummins ISL9 engine and an Allison 3000 EVS transmission. The cab has seating for up to four firefighters and is outfitted with in-cab-mounted tool boards and flashlights. MFD firefighters can also utilize two EMS compartments with interior and exterior access.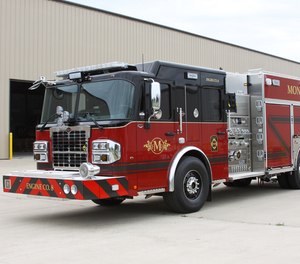 Bill Bird, Toyne Product Support Coordinator, said, "It's great to see that the Moncure Fire Department has received their fourth Toyne delivery. Our team is proud to be a trusted partner in providing fire apparatus that are tailored to their needs. We are excited to see the department expand its capabilities with this new Toyne Pumper."
Established in 1966, MFD has provided fire protection and rescue services to Moncure, North Carolina, for over 56 years. The department's territory spans over 80 square miles, with several communities and heavy industry under its protection.
With a more-than-capable chassis and body configuration, this Toyne Pumper is ready to serve alongside the department for years to come.
Learn more about the department by visiting Facebook.com/MoncureFire.