Next evolution of Scott Sight brings advanced features, customizable options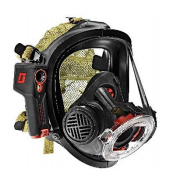 MONROE, N.C. — 3M Scott Fire & Safety, a global leader in innovative protective equipment and safety devices, has launched a new version of 3M Scott Sight with an optional Pro Package feature set, a next evolution of the industry's first in-mask thermal imaging solution. Introduced in 2016 for hands-free situational awareness on the fireground, Scott Sight now features an automatic shut off function and improved battery life when not in service while the Pro Package option offers advanced features including automatic video recording and hot and cold tracking.
"Scott Sight was designed to be adaptable for ongoing and emerging technologies and firefighter needs," said Jeff Emery, global business unit leader, SCBA and fire solutions for 3M Scott Fire & Safety. "With this evolution of the technology, the Scott Sight Pro Package takes the industry's first in-mask thermal intelligence system to a new level of safety and performance."
Unlike other hand-held thermal imaging cameras, Scott Sight combines a camera with a display in the facepiece to eliminate the need for reaching down and lifting a camera. Firefighters get their hands back for effective communication, victim extraction and carrying tools. Standard features such as stand-by mode, single button power-off, temperature measurement, and adjustable display combine to provide firefighters with improved situational awareness.
With the Scott Sight Pro Package, the advantages expand to include features such as hot spot tracker, suited for overhaul conditions, while cold spot tracker aids first responders in hazmat situations, such as pinpointing valve leaks. The Scott Sight Pro Package feature set can be configured through the Scott Sight mobile app which allows users to enable and disable features and customize the screen layout to their preference.
"We're continually looking for ways to help firefighters be safer and more efficient on the ground," said John Graves, global portfolio manager for thermal imaging solutions with 3M Scott Fire & Safety. "The latest version of Scott Sight along with Pro Package's enhanced features offer both safety and convenience, allowing firefighters to focus on the job at hand with confidence that their Scott Sight in-mask thermal imaging solution is doing the rest."
3M Scott manufactures innovative respiratory and personal protective equipment and safety devices to protect emergency services personnel and first responders from inherent environmental hazards around the world. For more information about 3M Scott and to see the innovative design, please visit www.3MScott.com.
About 3M
At 3M, we apply science in collaborative ways to improve lives daily. With $32 billion in sales, our 91,000 employees connect with customers all around the world. Learn more about 3M's creative solutions to the world's problems at www.3M.com or on Twitter @3M or @3MNews.