Off-duty firefighter does CPR on victim in fatal crash
He was "pretty rattled" after trying to save a man lying in an intersection as he was driving home from a dentist appointment
---
Treasure Coast Newspapers
STUART, Fla. — Scott Cannon knew Tuesday's fatal crash on U.S. 1 was bad when he stopped at a red light at Palm City Road.
The 42-year-old Martin County firefighter and emergency medical technician was off duty, driving back to Stuart about 3:30 p.m. from a dentist appointment in Port St. Lucie.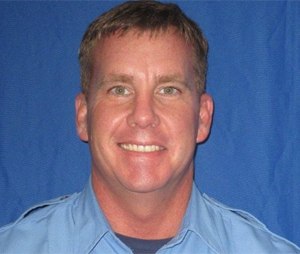 "I saw a bunch of debris in the street from the scooter," Cannon said. "I looked closer, and I saw someone lying in the street."
He had just missed seeing the crash in which 84-year-old Miyako Osgood of Port St. Lucie, who was driving her car south on U.S. 1, hit a four-wheel electric scooter as she crossed the Palm City Road intersection, according to police reports released Wednesday.
A few cars from the crash scene, Cannon honked his horn and made his way to the man, later identified as 66-year-old Larry M. Rusche of Kentucky.
Cannon, who always keeps medical gloves in his vehicle, started performing CPR on Rusche in the middle of the intersection. He identified himself as an off-duty firefighter and relayed medical information to a bystander on the phone with 911.
"From looking at him, I knew he needed to get to a trauma center as soon as possible," Cannon said.
He kept thinking about the fact he had no equipment or fellow firefighters with him to assist Rusche.
"It was strange to be there and not do it on duty," Cannon said. "I was kind of on my own at that point."
About five people gathered at the scene, he said. Two nurses kept track of Rusche's breathing and vital signs. One person gave up his shirt to help with the blood.
After a few minutes, Stuart Fire Rescue and police officers arrived. They didn't give Osgood a Breathalyzer test or draw blood from her because "there were no indications of impairment," said police spokesman Officer Brian Bossio. She hasn't been charged or cited in the crash, which is under investigation.
Osgood was taken to Martin Medical Center for observation, Bossio said. Rusche was pronounced dead at the hospital.
Cannon stayed at the crash scene for about a half-hour and overheard police officers saying Rusche had died.
"I was shaken up for about two hours afterward," Cannon said. "I was pretty rattled for a while just because it's different when you're on duty doing it versus just driving home from a dentist appointment."
The incident "bothered" Cannon so much, he said he couldn't sleep Tuesday night. He was up all night thinking about it.
"It definitely affected me," Cannon said.
Still, he said he did what any firefighter/EMT, whether on or off duty, would have done. He said it was "just reflex."
"I saw someone lying in the road that needed help," Cannon said. "There was no one else near him. I had to do something."
It wasn't the first time he's helped someone while he wasn't working, Cannon said. A few years ago, he helped a man involved in a rollover crash on Interstate 95.
"Some people choose to just kind of stare and drive by," Cannon said, "but I think if you're a firefighter, you owe it to the community. You have to do something."
Copyright 2014 Treasure Coast Newspapers
All Rights Reserved