Fire Service Plus Seeks Distributors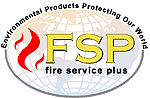 Fire Service Plus, Inc is committed to saving lives and protecting our environment by manufacturing the most environmentally friendly firefighting products in the World. Fire Service Plus, Inc is currently the fastest growing manufacture of firefighting products in the World. We are now seeking distributors that are well established within there communities and market. We are NOT looking for an "order taker".
We are looking for very active and aggressive distributors that will market our products to industrial and municipal fire departments. If your company is seeking to represent a new product line that gives you the competitive edge, then you need to apply within. Please visit our site to fill out the interest form and our National Sales Manager will follow up with you. Remember, opportunities like this can help simulate your business.
Fire Service Plus, Inc is excited to present these opportunities to any distributor that wants a competitive edge over their competition. We know that these types of opportunities don't come very often, but we are excited to announce the opportunity. This opportunity is a first come first service basis. This means your company could be the first and only distributor in your marketed areas. Remember, we don't fight fires, we extinguish them. NOTE: The current distributor contact list is currently under construction. If you want to purchase any of our products in your area please contact Fire Service Plus, Inc's corporate headquarters at 800-854-7740 or 770-460-7793. We will direct you to the appropriate distributor in your area. We thank you for your business.