Havis-Shields Announces the 2008 F-Series Console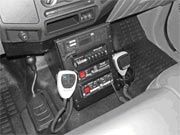 12" Under Dash Vehicle Specific Console for 2008 Ford F-Series Pick-Up F-250, 350, 450, & 550
WARMINSTER, PA - Havis-Shields Equipment Corporation has come out with with a new equipment console that is specific for Ford F-Series pick-up trucks. The console includes the following features:
• Filler plates (FP) and/or equipment brackets (EB) to completely enclose mounting area less internal mount options
•Under dash console
• 12" maximum depth near the center of the console
• Easy Installation
• No vehicle mounting kit required
• No permanent modifications required
• If vehicle has OEM center console, it will block the lower three inches (3") of console face plates
Please contact Havis-Shields today for recommended options & additional ordering information at 800.524.9900. More information also available on the website at www.havis.com.