Havis-Shields Announces the New Chevy Trailblazer Console
WARMINSTSER, Penn. - Havis-Shields continues its innovation in custom vehicle equipment by announcing the new VS Series Console available for the '02-'07 Chevy Trailblazer.
Features of the console include:
• New vehicle specific OEM console provides professional & custom appearance.
• Console manufactured from laser cut steel to precisely fit with OEM floor shifter & hand brake.
• Provides ideal equipment mounting solution in an application where space is very limited.
• Provides enough space to mount up to 13" of emergency equipment.
• Requires removal of the rear OEM armrest pad.
• Rear seat AC controls & air duct are also removed.
• Permanent modification (cutting plastic) is required.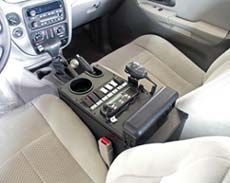 Part # C-VS-1300-TBZ
Please contact Havis-Shields today at 800.524.9900 for recommended options, available accessories, & additional ordering information.