Havis-Shields Announces the New Halogen Map Light!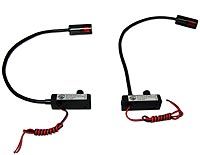 WARMINSTER, PA - Havis-Shields Equipment Corp. introduces the NEW 12" or 18" Gooseneck Halogen Map Light for your mobile office! These map lights are each available in Side or Top Mount. The map lights feature a bright 5-watt halogen lamp with a wider beam and more light than LED models. An easy-to-slide permanent red lens provides optional red or white light. A larger heat sink provides improved cooling. These durable lights are constructed with a die-cast housing and a long-life flexible gooseneck. The high-quality dimmer switch provides the right amount of light for any task, and reduces nighttime vision loss. Call today for information on Part # C-MAP and inquire about optional mounting kits.
Havis-Shields offers the widest variety of accessories and options in the industry for your mobile office solution. Additional features availabe for both sizes include:
• Permanent clear lens to prevent accidentally touching the lamp
• Lamp is 5 watt T3 bi-pin (draws .42 amps @ 12VDC)
• 12" wire lead (18 gauge) with stripped ends.
• 12" light standard on C-ML; C-ML-MCB; C-ML-LP; C-ML-LP2; C-ML-PS2; C-ML-MLB; C-ML-1.
Learn more by calling 1-800-524-9900, visiting www.havis.com, or by email at sales@havis.com.