PRESS RELEASE
PowerArc Warning Lights Introduces the First Lightbar of its Kind
---
use if there is a picture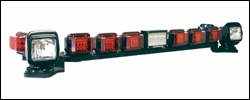 end picture
VOLT (Versatile Optical Lighting Technology) is the first lightbar of its kind. It is designed to allow the integrated mounting of not only warning lights but a multitude of auxiliary lighting devices such as Fire Research Corporation7 LED scene lights, remote controlled spot lights by GoLight7 and even DOT marker lights.
 
Cab mounted scene or spot lights can now be mounted directly to the lightbar reducing roof penetrations and improving the ease of installation and servicing. Working with the M90 series oscillating warning light technology, each pod produces a 900 sweep of warning light signal. Replacement or part stocking for this bar is simplified because all the pods are identical.
The VOLT's extrusion has unique 450 end cuts creating five different end configuration options. Custom stepped end castings allow auxiliary end lights to be mounted without blocking the primary warning light signal. When FRC7 LED brow lights are installed they can be used as either emergency warning lights or scene lights. Another unique feature of the end casting is that it allows the mounted FRC7 LED brow light to be manually turned from a forward facing brow light to a side facing scene light.   
The VOLT ranges in length from 16.75" to 90". The extrusion is built with a top center wire trough and carriage bolt mounting tracks both above and below. The tracks and wire trough allow the elements to be positioned anywhere on the bar for maximum flexibility. The VOLT is truly a lightbar with endless versatility.