Sporting Chance
---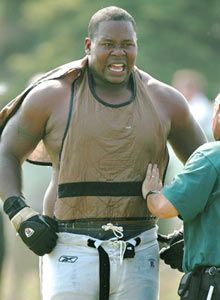 AP Photo/Rusty Kennedy
Philadelphia Eagles lineman Shawn Andrews uses a vest soaked in ice water at the end of the team's football camp practice.
More and more fire departments are using written policies to govern rehab policies at emergency scenes and live training exercises. From getting everyone on board to deciding what rules to set, there are several critical steps to a successful policy-making process. When drawing up policies, it can be helpful to look at how athletes take care of themselves as there are many parallels that can be drawn between firefighting and athletic competition.
Even the fittest of athletes may be susceptible to environmental extreme conditions. In February, the National Center for Catastrophic Sport Injury Research at the University of North Carolina released its Annual Survey of Football Injuries. The report stated that 33 football players have died from heat stroke, including 25 high school students and five college athletes, since the statistics began being collated in 1995. Overall approximately 700 people die each year from heat-related illness. Thousands more receive medical attention and recover. Beating the heat is accomplished when our thermoregulatory mechanisms maintain tight control of core body temperature.
NFPA 1584
While the odds of your department experiencing a heat-related death are quite low, this does not excuse agencies from ignoring the recommendations of NFPA 1584. Across the country, fire departments have helped minimize the risk by implementing comprehensive environmental policies, and by updating them regularly to reflect best practices. Many articles and advisories are available on this Web site, along with the IAFF and the IAFC sites.
And although the athletic community does not currently have an organization such as the NFPA to mandate the actions of coaches and athletic trainers, educational resources are widely utilized. The National Athletic Trainers Association has tips for recognizing, preventing and treating heat illness. You can find them by typing "heat illness" into the search window at Nata.org. The American College of Sports Medicine's consensus statements on hydration and heat illness are available at Acsm.org. The Centers for Disease Control and Prevention has an entire web site devoted to extreme heat and the prevention of heat illness. And finally, the National Federation of High Schools has recommendations posted at Nfhs.org. Consider reviewing the current literature and policies utilized by those health care providers whom look after the well being of athletes.
If your local high school football team and marching band administrators can be concerned for their participants, certainly the fire department should be taking a strong stand on illness prevention, too.
As the certified athletic trainer for my school district, I've helped put together procedures and supplies that have been utilized to prevent heat illness among our football team and cheerleaders. It means these athletes have been adequately prepared physically for the demands and conditions they will encounter. It is not unusual for temperatures to reach above 100 degrees on our artificial field turf. The protective gear worn by the football players increases the stress on the body, and some of our athletes play both on offense and defense, having little down time on the bench.
We have no control over Mother Nature. Sunlight, heat and humidity all contribute to the conditions affecting the performance and energy level of any individual. For a football game, the sports medicine staff prepares the following arsenal of supplies and equipment:

10 gallon coolers filled with ice water and electrolyte sports drinks
Towels immersed in ice water, misting fan, cups and water bottles
Kore Kooler rehab chairs
10' by 10' tent for shade, with sideline benches already in position
In addition, an advanced cardiac life support EMS unit is contracted to be on site during the game. Our medical staff includes two certified athletic trainers, two college senior student athletic trainers, a volunteer orthopedic surgeon and a family practice physician. Despite our best efforts, we do occasionally have athletes experience calf cramping. Fortunately we have not had any serious heat illness patients. By following our example and transferring some of our best practices and pre-planning to your department, hopefully you can say the same.