2 key benefits a smart door operator offers a firehouse
New technology from LiftMaster can help firefighters get out the door more efficiently while protecting what's inside
---
Sponsored by LiftMaster
By FireRescue1 BrandFocus Staff
Fire crews need a way to exit the firehouse safely as well as swiftly. Firefighters responding to a call may rush the apparatus out of the station, potentially exiting the firehouse before the door is completely open. This can cause unintended damage to vehicles and equipment, as well as injuries to personnel.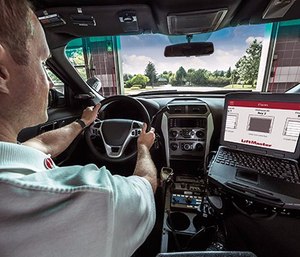 New technology from LiftMaster offers a smart automatic door access solution that can help you get out of the station faster, safer and more efficiently, reducing the likelihood of door/apparatus collisions and personnel injuries, as well as break-ins while you're away on a call.
LiftMaster's emergency response products and technologies are designed to provide an integrated solution to address the specific challenges facing firehouses – including the four most-wanted smart features for the firehouse, according to a 2016 FireRescue1 survey: garage door sensors, automatic door locks, programmable/motion-activated lights and advanced security systems.
Here are two key benefits offered by the LiftMaster smart door operator solution:
1.      Improve safety for equipment and personnel
An integrated mechanical door opener system enables a quick departure by eliminating the need to manually open and close apparatus bay doors. LiftMaster's firehouse access solutions feature the company's Logic 5.0 commercial door operators and include a suite of access and safety accessories designed to expedite turnout.
Driving into a partly opened door can damage the door and the apparatus and create time-consuming paperwork, as well as requiring costly repairs and re-certifications. With the LiftMaster solution, a traffic-style signal cautions the apparatus driver to wait when it's flashing red and indicates that the door is fully open and safe to exit when the light glows solid green. This takes the guesswork out of knowing when it's safe for the apparatus to exit the station, helping you avoid expensive collisions with the door.
Primary safety sensors known as "photo eyes" ensure safe operation of the door should an obstruction be detected. If someone or something is detected in the doorway, the system stops the door from closing and reverses, protecting personnel as well as vehicles and equipment.
Additional safety sensors can be deployed to further guard against injury or damage. LiftMaster's Light Curtains work in pairs to create an additional 36 inches of vertical coverage. The 22 infrared cross-beams create an invisible coverage zone across the plane of the door opening to detect people, property and equipment. If any of the cross-beams are broken, the door operator stops and reverses the door to prevent contact or injury. This is especially helpful if your station has tall apparatus with added equipment, such as aerial ladders.
2.      Protect the firehouse from intruders
Theft and vandalism of firehouses is a sad reality, and a smart door system can also provide improved security measures while your crew is away on a call.
A timer-to-close feature, standard with all LiftMaster commercial door access systems, automatically closes the door after a predetermined amount of time has elapsed. This eliminates the potential for a door left open, greatly reducing the opportunity for theft and damage.
The built-in Security+ 2.0 radio receiver uses tri-band frequency to improve range and reduce interference so the door opens, stops and closes conveniently and reliably. The receiver provides increased security by sending a new "open" code to the door operator every time the remote is pressed. This prevents would-be thieves and vandals from gaining access to the door operator system by hacking the remote code.
Remote monitoring and operation provide further peace of mind. LiftMaster's MyQ technology enables secure monitoring and control of a door operator using a smartphone, tablet or computer so you can confirm that the door is closed while you're away from the station. Notifications and other alerts can be received as email or push notifications on a mobile device, enabling you to focus on the emergency response call and not be concerned about someone gaining access to the firehouse.
"When firefighters answer the call, the potential for vandalism or theft of expensive life-saving equipment and medications while they are away is a concern," said Aaron Raders, marketing manager for LiftMaster Commercial Access Solutions. "A secure firehouse is a safe firehouse."
LiftMaster door operators also include a Maintenance Alert System, which provides automatic reminders when routine maintenance is needed. These alerts help reduce long-term operational costs by promoting preventive maintenance, and the reminders can be set by date or by number of open/close cycles.
Fire chiefs are always looking for ways to improve response times and the safety of their crews, equipment and stations. LiftMaster's commercial UL325-compliant operators and monitoring devices work together to provide an integrated, seamless door operator system that can help improve speed, safety and security for firefighters.

Request information from LiftMaster
Thank You!