20 LEED elements used at innovative Va. fire station
Charlottesville fire station uses innovative technologies to minimize its carbon footprint
---
The city of Charlottesville, Va. — home to the University of Virginia — is putting the finishing touches on a $14.2 million state-of-the art facility for the Charlottesville Fire Department's Fontaine Ave. fire station.
All new city buildings in Charlottesville must conform to the U.S. Green Building Council's Leadership in Energy and Environmental Design certification. While the Fontaine Ave. station still is waiting for final LEED certification to determine its level of energy efficiency, gold- or platinum-level certification is expected.
The new station has an impressive list of LEED-compliant equipment and features that will minimize its carbon footprint and pay dividends to city taxpayers in the form of lower energy costs and helping the environment with a goal of having 95 percent waste reduction during construction.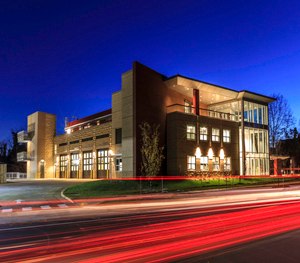 1. Energy production
The new station will feature 60 CanadianSolar Max Power roof-mounted solar panels that will significantly reduce the station's dependence on electricity for normal building operations.
2. Geothermal heating
The station's LEED foundation is its standing column well geothermal heating and cooling system. The system consists of five wells that pull groundwater through a heat exchanger to extract heat and use it to maintain the station's ambient air temperature at around 50 degrees F.
This will reduce energy costs and consumption because less energy will be needed to bring room temperatures up (heating costs) or down (cooling costs). This lighter load on the station's heating and cooling systems will also contribute to the longevity of those systems.
3. White TPO roof technology
The station's roof was constructed using white TPO roof technology. Energy efficient roofs using white surfaces have been shown to reflect up to 78 percent of the sun's rays to reduce air-conditioning costs.
4. Energy recovery ventilation system
This system will use site-recovered energy from building exhaust (usually wasted to the atmosphere) to pre-condition fresh outdoor air for temperature and humidity, which will help reduce building energy costs. This pre-conditioning will reduce the workload on the heating and cooling system — reducing energy demand for treating outdoor air by up to 80 percent.
This reduced workload will compliment ongoing energy cost savings and was factored into the specifications for the building's overall HVAC equipment needs for more immediate return on investment.
5. Radiant heating system
A radiant heating system in the apparatus bays will turn off when the apparatus bay doors are opened, and then return the system to operation when all doors have closed.
6. Ceiling fans
Nineteen ceiling fans have been installed throughout the station to improve air circulation for more effective heating and cooling as well as to increase the comfort of building occupants.
7. Exterior window shade canopies
Exterior windows are operable to allow for natural heating and cooling when available, and all exterior windows have exterior window shade canopies to minimize the effects of radiant heat from sunlight on interior spaces.
8. Bio filters
The station has two bio filters that treat and scrub all the water that comes off the two station aprons.
9. LED interior lighting
The station uses high-efficiency lighting fixtures with LED (light emitting diode) technology throughout the structure. LED bulbs and fixtures can reduce a department's energy bill for lighting because they uses 75 percent less energy than incandescent lighting.
In addition to being durable — LEDS don't break like a bulb and last a minimum of 25,000 hours of use — this lighting will help reduce air conditioning costs because LEDs produce very little heat.
10. Occupancy and vacancy light sensors
In addition to LED lighting, the new station has occupancy and vacancy light sensors that automatically turn lights on when personnel enter a room and off when the last person leaves.
11. Lumen sensors
Lumen sensors in each room of the station will measure the amount of natural light being provided by windows and skylight and automatically turn lighting on or off to maintain the appropriate level of available light for room occupants.
12. Solar tubes
Twenty-five solar tubes, also known as tubular skylights, have been installed to maximize the use of available sunlight for the illumination of interior spaces, particularly those that have four walls and no windows.
Solar tubes collect the available sunlight above the roofline and use a defuser to distribute the light into the room. The light from one large solar tube can equal that of 12, 100-watt light bulbs.
13. Dual-flow shower heads and dual volume flush toilets
For better water management, the station has dual-flow shower heads (2 gpm @ 80 psi) and dual-volume flush toilet fixtures (one flow for liquids and another for solids).
14. Rainwater harvesting system
Also part of the water management system is a 20,000-gallon rainwater harvesting system that will capture rainfall from the roof and store it. It is then treated and recycled as a non-potable supply for flushing toilets in 13 bathrooms, washing the truck bay floor and washing the apparatus.
15. Tankless water heating system
The tankless water heating system to provide hot water at the point of use.
16. Permeable paving technology
Exterior walkways are covered using permeable paving technology. Permeable paving is a range of sustainable materials and techniques that feature a base and sub-base that allow the movement of rainfall through the pavement surface.
In addition to reducing runoff and allowing rainfall to return to the ground beneath it, permeable paving also traps suspended solids and filters pollutants from the water.
17. Underground parking
Underground parking for 32 vehicles was used to reduce the overall footprint of the station while at the same time allowing adequate space for fire apparatus to engage in training activities on the station's exterior.
18. Parking and docking stations for electric and hybrid vehicles
Two hybrid vehicle parking spots along with three vehicle docking stations for electric and hybrid vehicles have been installed in line with Charlottesville's commitment to use green technology for city vehicles.
19. Bike racks
An exterior bike rack has been installed to support University of Virginia student volunteers.
20. Local construction materials
All construction materials have been procured from sources within 500 miles of the station. Those construction materials and installed furnishings, such as floor coverings and furniture, for the station were selected from vendors who could provide products with low levels of volatile organic compound vapor emissions.

Request product info from top Fire Station Equipment companies
Thank You!