How, and why, to buy a flammable liquids storage cabinet
Having the proper equipment to store flammable liquids may keep your fire station from burning down
---
NFPA 30: Flammable and Combustible Liquids Code and other standards bodies advise fire and EMS stations to have the proper equipment installed to store flammable liquids used in the operation and maintenance of fire apparatus and small engine-powered equipment, such as chainsaws, electrical generators, ventilation fans and more.
In order to meet the standard, it is important to learn more about the detailed recommendations for the safe keeping of flammable and combustible liquids. There also are several options available from manufacturers, depending on a station's storage needs. 
The most common approach for compliance in the storage of flammable liquids is the use of an approved flammable liquids storage cabinet. NFPA, OSHA and Uniform Fire Code (UFC) all require flammable cabinets be built to these specifications: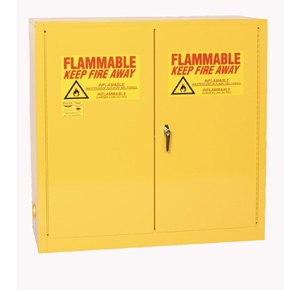 Bottom, top and sides of cabinet shall be at least No. 18 gauge sheet steel.
Cabinet must be double-walled with a 1-inch airspace.
Joints shall be riveted, welded or made tight by some equally effective means.
Door shall have a three-point latch.
Door sill shall be raised at least 2 inches above the cabinet bottom to retain spilled liquid within the cabinet.
Product tested to limit the internal temperature in the cabinet to 325° F for a 10-minute fire test.
Cabinet shall have a "Flammable — Keep Fire Away" legend.
In addition to these requirements, UFC requires self-closing doors that are connected to a fusible link. When a fire reaches 165°F and the fusible link melts, the cabinet doors close automatically. 
Types of storage cabinets
It is important to assess flammable liquids storage needs before purchasing a cabinet. The typical fire and EMS station is probably home to some of many common flammable liquids that require storage, including gasoline for small engines used around station, automotive fluids and lubricants, paint thinners and strippers (for routine station facility maintenance) and oil-based paints.
Flammable liquids storage cabinets are available with both manual and self-closing door configurations; check with the building and fire code requirements for your jurisdiction before making a purchase. They come in two colors: yellow for aerosols, gasoline and flammable liquids and red for paint, inks and Class III combustibles.
Approved flammable liquids storage cabinets with self-closing doors come in sizes ranging from four gallons beginning around $425 to 90 gallons beginning at $1,200. Manual closing door models tend to run about $100 cheaper than self-closing models.
There are cabinets that can accommodate storage of more than 90 gallons. But these mostly are designed for commercial and industrial applications. These cabinets can be purchases from vendors including Durham Manufacturing, Eagle Manufacturing, Edsal, Jamco, Justrite, Sandusky Lee and Sellstrom Manufacturing.
Fire prevention begins in the home. Reduce the potential fire hazards presented by the storage of flammable liquids in the fire station by properly storing them in a listed and approved flammable liquids storage cabinet.

Request product info from top Fire Station Equipment companies
Thank You!