Retired Firefighter Paul Olesniewicz Featured in Professional Fire Fighters of Arizona Magazine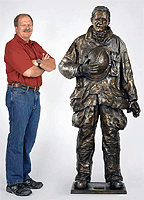 Retired Firefighter Paul Olesniewicz recently spoke to Professional Fire Fighters of Arizona Magazine about his business 911 Sculpture. Below is the full article:
There is an old saying that time flies when you're having fun. Well, I must have had the time of my life, for my 32 years in the fire service seemed to have passed in the blink of an eye, an eye with crows feet that is. My fire service career included one year with the forest service, four years with the US Air Force as a civilian firefighter and twenty seven years with the City of Tucson Fire Department. That is a long career for someone who even as a kid never thought of being a firefighter.
Two years ago at the age of fifty nine I decided it was time to retire. Firefighting is a young person's game and I feel very lucky to have played the game as long as I did. Since I retired my wife and I have stayed pretty close to home, except for a couple of trips to visit an old and dear friend who has a ranch in the high country of Colorado. Having grown up in Flagstaff, Arizona, I do love to get up into the mountains when ever I can. I also try and exercise on a regular bases. I either walk or ride my mountain bike for fifty to sixty minutes, five to six times a week. Most of my time is taken up by my second career path.
I have Bachelors of Fine Arts Degree, in sculpture, from Northern Arizona University. I have taken my years of experience in the fire service and my love of sculpture to start a business creating bronze firefighter statues. After you retire you need to stay busy and starting a new business will definitely keep you busy. I am currently in the final stages of completing the Tucson Firefighters Memorial. It will be located in downtown Tucson, Arizona, at the new Fire Station One, Fire Administration Complex. I am also working on a life size bronze statue for the Mammoth Lakes Fire Department in Mammoth Lakes, California. Although I make statues both large and small, I very much love creating large statues to honor firefighters.
I like to believe my firefighting background gives me a unique perspective on how important firefighter commemorative and memorial sites are to their communities, departments and their loved ones. I have helped departments both large and small with their projects. I find it very rewarding to help in my small way to honor our hard working and brave brothers and sisters. It is the best of both worlds, I'm retired but I get to work with the great people of the fire service. Stay safe out there!