'Cot Cap' launched at FDIC keeps contents dry
---
By Jamie Thompson
FireRescue1 Editor
INDIANAPOLIS — In wet weather, Firefighter-paramedic Matt Payne has always found keeping the contents of a cot dry almost impossible.
But rather than battle in vain against the elements, he decided to do something about it.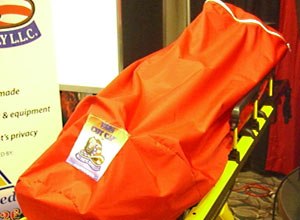 For the past year, Payne has been working on a specially designed cover for cots that keeps patients, as well as paperwork and equipment, dry.
Speaking at his launch of the new product — EMS Cot Cap — at FDIC in Indianapolis, Payne said it works like a fitted bedsheet that goes over the top of the cot, which can be put on and removed in seconds.
"As a firefighter-paramedic, every time during a thunderstorm or heavy rainfall that you took the cot out, everything on it — sheets of paper, equipment, etc. — got soaking wet," Payne said.
"I always told people on the department that someone really needed to make a type of cover for this kind of thing. This is something I'd been talking about doing for about five years, but didn't get to actually start working on the design until about a year ago."
The Cot Cap is being distributed by PharMedCorp, and is made from water-resistant material, coming in a single size that fits all regular cots.
"It has a dual purpose, with it keeping paperwork and equipment dry during wet weather," said Payne, president of MJ Payne Supply L.L.C.
"But its other purpose is to keep the patient warm and dry during bad weather, too.
"Of course you can cover them in sheets, but this is a good way to give them a little more security and privacy."
Payne, of the Brunswick, Ohio, Fire Department, said he was pleased with the reaction from visitors to his booth at FDIC.
"Everyone seems to think it's a great idea and seemed shocked it's the first time something like this has been made," he said.

Request product info from top Fire Bags and Cases companies
Thank You!