PRESS RELEASE
Coaxsher RP-1 Scout radio chest pack Review
---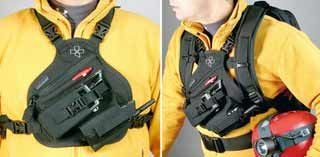 end picture
WENATCHEE, WA – Key benefits: Multiple compartments for specialized contents In front of the chest or shoulder,back,hip- carry Highly ergonomic Flexible positioning Accommodating to other wearable gear Adjustable to fit a wide range of body sizes

General Description -
The RP-1 Scout from Coaxsher- is one of a specialized range of wearable gear packs that are specifically intended for the active outdoor sports community. The RP-1 Scout is a special breed of chest pack designed to securely contain electronics such as Receivers/Transceivers, GPS,CellPhones,Rangefinders and PLB/EPIRB devices. All these are within the domain of the patrol and search and rescue professions. The pack is comprised of tear-drop shaped cluster of compartments that mounts to the wearer's chest by two straps that crisscross the back and attach at four points to the pack in front. This arrangement is derived from the classic chest lanyards used by horsemen for centuries. The use of two straps ensures that the pack remains centered and at the desired height. Another advantage of the crisscrossing arrangement is that the shoulders and under-arms are unobstructed- creating accommodation for additional gear to be carried either to the side or on the back. This latter point is especially noteworthy as SAR and Patrol are likely to also be wearing a backpack of some sort.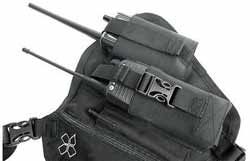 Target Market-
Urban and Mountain Search & Rescue / Radios, CellPhones and other small electronics-Active Outdoors /Radios, CellPhones and other small electronics and tools-Military/Radios, CellPhones and other small electronics and tools
Form Factor & Build -
Sizes- Standard (One size). Compatible with the anthropometrics* of most relevant age groups and genders. Geometry-teardrop with four attachment pointsMaterial- Heavy duty Cordura nylon fabric and construction.YKK zippers throughout. Medium Duty Velcro closure . Elastic radio cord. Quick-release snaps throughout.
Ergonomics-
The RP-1 Scout is specifically designed to be less box-shaped than other packs of the same genre. Rather than being a rectangle in the middle of the chest, it's teardrop shape and 45º angled compartments eliminate lateral interference with backpack straps and make the deployment and stowage of tools ergonomic to the user's left hand. This left hand dominance favors the average 'weak hand', leaving the average strong hand free for more strenuous tasks. The RP-1 Scout has fully adjustable straps at all four points/snaps. This means that once a loose rig is mounted, it can be tightened down so as to position the pack as well as to firmly attach it to the operator. Because the straps are thin and narrow, they conform well to the user's thoracic contours and neither bind nor in any manner interfere with mobility or other straps that may be layered on top. Women will appreciate how accommodative this design is to their anatomical features. Because the pack is so compact , it could even be used by children as young as 5 or 6 years of age.
Affordances-
Incident management and communication roles often require the ability to monitor more than one frequency, and this may require two radios.Two main compartments will typically host a compliment of radios, cell phones or GPS unit in a personalized configuration. A spacious pen-pocket is long and wide enough to hold the largest likely writing instrument. A hidden zippered compartment will hold a writing pad as large as 4"X6". All compartments are angled at the same 45º and opening to the left- though the zippered pocket opens to the right- making it accessible to the right hand and keeping it clear of the left oriented electronics.
Human Factors & Usability -
The RP-1 Scout doesn't come with a set of instructions and at first, novices may be puzzled as to how to most effectively mount the pack for use. First the two lower snaps are released and the sliding square connector is drawn close to the pack, leaving room for the head to pass through. The loose ends are then tossed back and once they land at the back waist, they're drawn to the lower left and right pack attachment points for connection with the snaps. Once this procedure has been successfully executed, subsequent attempts become intuitive. The use model for the compartments is straight forward. The simple 'open top' style of compartment construction accommodates a wide range of electronics that may have antennae of various shapes and sizes sticking out of them. Both the Velcro secured pouch as well as quick release secured pouch were easy to use with a heavy gloved hand, though Velcro is significantly easier to disconnect than the snap closure - with gloved hands. The strap adjustments were very easy to control bare handed and just a bit slower to use with gloved hands .A formidable fabric tab on the zipper made operation very easy, even with a gloved right hand. Over all, the fit was comfortable on both genders and equipment was very easy to access. The RP-1 Scout integrates well with a back pack and allowed the use of both a backpack as well as as hip-oriented pack with no interference whatsoever.
Styling and Aesthetics
The RP-1 Scout is an aesthetic refinement of the customary rectangular chest pack- making it as streamlined to look at, as it is to use. The lack of superfluous corners or wasted fabric real-estate, gives it a lean 'tactical' look that is in keeping with the activities of its intended customers.
Sales Source: http://www.coaxsher.com/ Price: $27.95 ------------------
Specifications: 1000 denier Cordura® YKK "splash-proof" zipper Large elasticized radio pouch with elastic band and quick release snap closure Overall dimensions: 9.5"X8.5" Weight: .6 lbs Volume: N/A Designed in Wenatchee Valley in Washington State, USA *Anthropometrics literally means man (anthro) measurements (metric). It is the measurement of the size and proportions of the human body, as well as parameters such as reach and visual range capabilities. Accurate data on height, weight, limb, and body segment sizes are needed to design items ranging from clothing, furniture, automobiles, buses, and subway cars to space shuttles and space stations. Anthropometrics enables us to properly size items, including system interfaces, to "fit" the user.

Request more info from Coaxsher
Thank You!