True North® Introduces the Trap Door Wildland Hose Pack™
---
Seattle, WA (December 10, 2016) – For Spring 2016, True North® Introduces the Trap Door™, a wildland hose pack created from scratch and offering tremendous advances in functionality while retaining durability.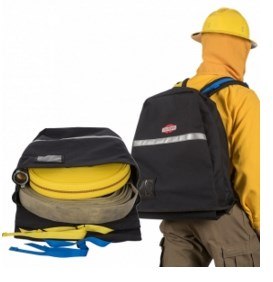 TRAP DOOR™ WILDLAND HOSE PACK
The Trap Door™ Hose Pack loads and deploys faster than any hose pack EVER! A bold claim, but once you've tried it we think you'll agree. Designed to carry two single-jacket hose bundles (up to 1 ½"each) in any configuration (donut, U-shape, etc.). The secret to the Trap Door pack is, well – the trap door in the bottom. This is a rigid platform that is pulled up by adjustable web, then released with rip-cords mounted on the shoulder harness. The design prevents accidental hose deployments. Color- coded rip cord tabs match the color-coded hose holders so you always know which hose you're deploying. Padded back and shoulder straps for comfort. Color: Black. Materials: 1000D Cordura®, Nylon Webbing, Metal & Nylon Hardware. Dimensions: 18" x 18" x 6 ½". Weight: 3 LBS.
ABOUT THE COMPANY: 
True North® is a trusted source for quality packs, bags and FR clothing for over 20 years. We design and manufacture gear and accessories for wildland fire, structure fire, and search & rescue markets, while our partner brand DragonWear™ supplies performance-based FR/AR clothing to the fire, utilities, industrial safety and petro chemical industries.
From our extensive line of RIT bags and turnout duffels for structure – to a full line of packs, duffels, radio harnesses and clothing for wildland fire and search & rescue – every True North® product is built to excel in the harsh conditions of demanding, everyday use. Product innovation and design are just starting points; what truly distinguishes True North® is superior customer service backed up by a lifetime materials warranty. In more than two decades, our passion for creating and improving upon ways to help people be as comfortable and safe as possible in their apparel and gear has not changed, and the proof is in our products.
For more information, please visit our True North® website at www.truenorthgear.com, call us at 800-873-5725 or email us at info@truenorthgear.com.

Request more info from True North Gear
Thank You!